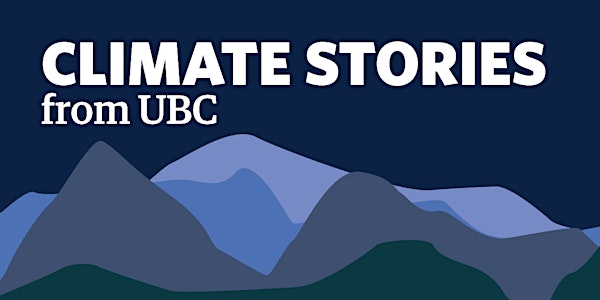 Climate Stories from UBC
What is UBC doing to support climate justice and sustainability research? Join us for a film screening and talks centered on climate justice
When and where
Location
VanDusen Botanical Garden 5251 Oak Street Vancouver, BC V6M 4H1 Canada
About this event
On October 27, climate researchers from UBC will gather to tell stories about their work for climate justice, their partnerships with communities from around the world, and how their work contributes to the global struggle for our future.
What is UBC doing to support climate justice and sustainability research? How are scholars addressing climate action in their projects? Come find out at this unique collaborative event.
Speakers include:
Severn Cullis Suzuki, David Suzuki Foundation Executive Director
Avi Lewis (Professor, Geography), "Putting the Future First: A Blueprint for community just transition planning in Canada"
Max Cohen (PSI scholar, UBC doctoral candidate), "Geographies of delay: From Shetland's oil era to the UK's first green energy island"
Fiona Beaty (PWIAS fellow, PSI), "Transforming how we map to address the effects of climate change on life in and around the Salish Sea"
Amanda Johnson (PSI scholar, UBC doctoral student), "Grasstic: A plastic made from grass"
Grace Nosek (PWIAS fellow, PSI scholar), "Rootbound"
Paroma Wagle (postdoctoral fellow, Geography & English Language and Literatures), "Urban climate justice from below"
Veronica Relano (PWIAS fellow, PSI scholar, UBC doctoral student, COP27 delegate), "SOS we are oceans"
Sarah Dickson Hoyle (PSI scholar, UBC doctoral student), "Indigenous leadership in wildfire management"
The event also includes a screening of the short version of the 2021 documentary Terra Libre, and a discussion with Chief Ninawa, hereditary Chief of the Huni Kui Indigenous people of the Amazon, and PWIAS International Indigenous Scholar, Chief Gidansda (Guujaaw) of the Haida Nation, and film director Gert-Peter Bruch.
Moderated by Dr. Vanessa Andreotti, PWIAS Interim Director, Canada Research Chair in Race, Inequalities and Global Change and David Lam Chair of Multicultural Education. The screening and discussion will launch a discussion on Indigenous land rights and resistance in the fight to protect the Amazon region.
The event is open to the public and free to attend. Food and drinks will be served to all participants.
Climate Stories from UBC is a gathering collaboratively organized by the Public Scholars Initiative, The Peter Wall Institute for Advanced Studies, UBC Sustainability Hub, UBC Climate Hub, and the Centre for Climate Justice.