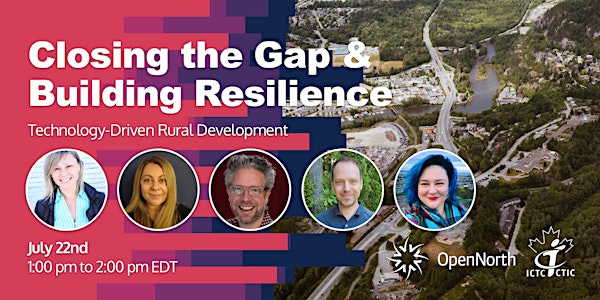 Closing the Gap & Building Resilience: Technology-Driven Rural Development
Engage with Canadian experts and community leaders to learn how rural communities are leveraging technology and data.
About this event
On July 22nd, 1 pm-2 pm EDT, ICTC in partnership with Open North invites you to join Alexandra Cutean, Chief Research Officer at ICTC, and Maria Tomovic, Deputy Executive Director at Open North for a virtual panel discussion with experts and community leaders to learn how rural Canadian communities are leveraging technology and data to support inclusive growth and address local needs.
The digital economy is rapidly evolving, bringing with it previously unthinkable opportunities for innovation and growth. This past year in particular has brought to the forefront the opportunity of technology to break down geographical barriers; it has also demonstrated how timely and accurate data can be leveraged to drive community-centred outcomes that address real-life needs. Although notable challenges exist—including connectivity and infrastructure—resilient and responsive rural communities are cornerstones to a strong and competitive digital economy for Canada.
Join us to explore important questions, engage with experts, and learn more about how rural communities across Canada are leveraging technology and data to enhance the quality of life of their residents and support sustainability and growth.
This virtual panel will provide:
An overview of the increasingly digital economy and its impacts across urban and rural communities
An understanding of how rural communities can leverage open data to support community needs
Examples of community-driven initiatives leveraging open data and technology
*A question and answer session will follow the presentations allowing participants to interact with the panellists.
Event Partner: Open North
Founded in 2011, Open North is Canada's leading not-for-profit organization specializing in smart cities, data governance and management, open government, digital inclusion and open procurement. Through research and advisory services, we empower communities to reimagine their use and governance of data and technology.
ICTC and Open North are pleased to introduce you to our esteemed subject matter experts:
Dan Griffin
GIS Supervisor at the District of Squamish, British Columbia
Dan Griffin provides data leadership to municipal governments, as a project management professional specializing in geographic information systems. With more than 20 years of experience, Dan knows the role that data plays in creating a healthy community. He has been at the forefront of technology innovation, in Whistler working as part of the technology team to deliver the 2010 Olympic Games and in his current role, managing the GIS and data services program for the District of Squamish. He provides strategic direction and business innovation support, to collectively solve community challenges, in one of BC's fastest-growing regions.
Jean-Marc LaFlamme
Managing Director of ReGen Villages Canada
Jean-Marc is a 25-year technology professional, digitally transforming government, industries, startups, non-profits and rural communities using Canadian tech. He is the Managing Director of ReGen Villages Canada. ReGen Villages builds regenerative and resilient smart communities, with integrated life support systems of food, water, energy, education, economic, transportation and waste-to-resource management. Communities are connected to each other with a secure, open platform for real-time innovation inside smart bioregions. Jean-Marc has founded co-working spaces, innovation centers, and entrepreneurship programs, and has also created civic tech teams, digital financing platforms and intergenerational hackathons allowing citizens to co-create communities and new businesses.
Ashleigh Weeden
Editor/Project Coordinator for Rural Insights Series: COVID-19 at the Canadian Rural Revitalization Foundation
S. Ashleigh Weeden, MPA is a feminist and rural futurist who splits her time between Ontario's Saugeen/Bruce Peninsula (Saugeen Treaty Lands) and Wellington County (Haldimand Treaty Lands). Her work is fundamentally concerned with place, power, and policy — and how these forces shape people's lives, particularly in rural communities and through technological change. A long-time advocate for the power of place-based approaches as critical mechanisms for creating effective public policy, Ashleigh has spent her career championing community-led innovation. Ashleigh is currently a doctoral candidate in Rural Studies in the School of Environmental Design and Rural Development at the University of Guelph, where she works under the direction of Dr. Ryan Gibson, the Libro Professor in Regional Economic Development. Prior to pursuing her doctorate, Ashleigh's working leading Grey County's Connected County Initiative directly contributed to the community being recognized as one of the Top 7 Intelligent Communities of 2017 by the Intelligent Community Forum. She also provided strategic communications, community engagement, and Indigenous relations support to the largest publicly-funded regional broadband project in Canada today, the Southwest Integrated Fibre Technology (SWIFT) initiative. Recognized as a thought leader on rural renewal, policy foresight, and public sector innovation and an emerging voice for 'the right to be rural,' Ashleigh has provided expert commentary to outlets like Buzzfeed News, the Ryerson Review of Journalism, CBC News, and CTV News. Her work can be read in publications like The Conversation Canada, Policy Options, and Municipal World.