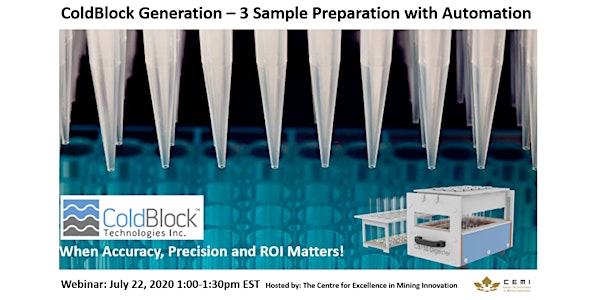 ColdBlock - Next Generation Sample Preparation with Automation
This webinar will highlight how automating the ColdBlock Digestion technology will dramatically improve the sample turn-around time.
About this event
About this Event
Next Generation Sample Preparation with Automation: When accuracy, precision, speed, and safety count.
The 30 minutes Webinar will feature
This webinar will highlight the Amira Global Project P1196A Project to dramatically improve the sample turn-around time by automating ColdBlockTM Digestion Technology. The presentation will feature:
- An overview of the technology and its application to mining
- AMIRA P1196 project findings
1. Speed and Accuracy2. Substantial cost reduction in sample preparation 3. Elevated workplace safety by reducing the handling of harmful reagents4. Positive environmental impact
- AMIRA P1196A proposal (next-generation ColdBlock with automation)
20 minutes: ColdBlock Presentation
10 Minutes: Questions and Answers
There is a drive to speed up the turn-around time for sample analysis. The high number of samples submitted for analysis from exploration or everyday operations result in sample processing backlogs and delays in reporting. These delays can have a crucial impact on decision making whether it is operational decisions or exploration and project decisions.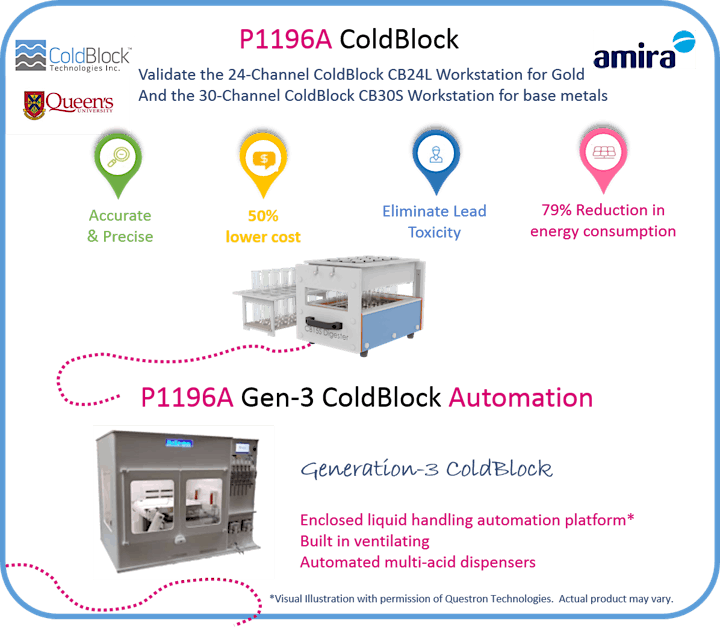 Amira Global is an independent global not for profit organization representing members from the resources industry seeking to enhance, sustain and deliver transformational research and development, innovation and implementation to the benefit of society.

CEMI is an independent Canadian based not for profit organization. CEMI's strategic focus helps to generate greater economic value of mines through technologies, processes and practices to improve the safety, performance and capacity of mines.
ColdBlock Technologies Inc. delivers sample digestion technology to prepare samples for analysis faster, with greater precision and improved safety. ColdBlock's proven technology is available in multiple platforms that can be incorporated into virtually any standard wet-chem laboratory setting. ColdBlock digesters can be scaled up and used in multiple configurations to prepare samples much quicker and more cost-effectively than traditional methods.

Contact us: info@coldblock.ca
Website: www.coldblock.ca