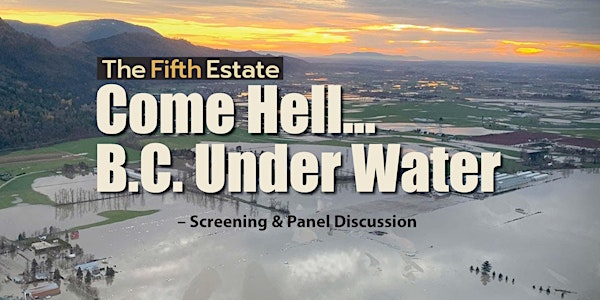 "Come hell… B.C. under water" - Screening & Panel Discussion
JOIN US for our annual fun & informative movie night, celebrating water! We bring the entertainment, you bring the popcorn!
About this event
UPDATE: Missed this event, or want to see it again — minus the technical gremlins 😉 — visit https://youtu.be/PHXGw_GPmn0 and enjoy! 💙
*****
JOIN US as we prepare to celebrate UN World Water Day! The Okanagan Basin Water Board (OBWB)-Okanagan WaterWise invite you to a special ONLINE screening of CBC The Fifth Estate's documentary "Come Hell... B.C. Under Water," followed by a panel discussion.
NOTE: This event will be held Wed. March 16 (ahead of UN World Water Day, celebrated on March 22).
This moving documentary examines the devastation in B.C. after last November's catastrophic flooding, the impacts of drought, fire, forestry, and the effects on farmers, First Nations and neighbouring communities.
We've seen all these issues play out here in the Okanagan too.
Join us as we look at 1) what lessons can be learned from last fall's floods and other extreme weather events we have been experiencing, and 2) how is the Okanagan responding. Hear from those working for urban utilities, in agriculture, fisheries, forestry, and on regional water management. And, leave with information on what you can do to protect your home and help your community.
Panelists include:
MARK DOWHANIUK - Infrastructure Manager for City of Vernon, speaking on what the city is doing to address flooding, wildfires and other extreme weather events
DAVE GILL - General Manager of Ntityix Resources will share what the Westbank First Nations forestry company is doing to promote sustainable practices, address wildfires, protect water quality and fish, through selective logging, cultural burning, and more
KIRSTEN HANNAM - Systems Agro-Ecologist with Agriculture and Agri-Food Canada's Summerland Research and Development Centre, on what farmers are experiencing and what is being done to help them prepare and meet the challenges for food security
KARI ALEX - Fisheries Biologist with Okanagan Nation Alliance, on the impacts of flooding, drought, wildfires and extreme heat on efforts to bring salmon back to the valley, and efforts to help this important species
ANNA WARWICK SEARS - Executive Director with the OBWB will talk about efforts to update the Okanagan Lake Regulation System, flood mapping, and more.
This is a FREE event, but the number of Zoom connections are limited. If you are sharing a screen with others, only one registration is needed for your group. Registrants will be sent a confirmation email.
We will also send a reminder email the day before the event with further details on how to join us!