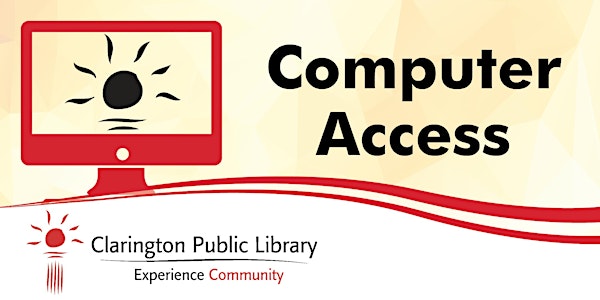 Multiple dates
Computer Access Appointments - Orono Branch (10 AM Start Time)
Library Computer Access
By Clarington Public Library, Museums, & Archives
Date and time
Sat, Jul 25, 2020 10:00 AM - Sat, Aug 8, 2020 10:45 AM EDT
Location
Clarington Public Library, Orono Branch 127 Church St. Orono, ON L0B 1M0 Canada
About this event
Clarington Public Library is excited to be providing limited computer access as part of Stage 2 re-opening procedures. Please read the following carefully in its entirety before booking a computer access time slot.
Completing this registration process grants you access to one (1) time slot of 45 minutes computer access, set to begin at the selected time, in the Orono Branch. Changes to time and location must be requested in advance of the appointment; they are not permitted (i.e. letting in early, allowing to stay late) at the start of or during an appointment. For the safety of our staff and community members, there are various parameters in place that must be adhered to when entering the Library and during your time in the branch.
• Bookings
All individuals entering the Library must have a computer booking for that time slot. As Orono Branch is limited to one computer access time slot, if you are members of the same household who wish to access computers simultaneously, please contact staff at 905-623-7322 ext. 2712 for assistance. This helps us ensure we are adhering to capacity limitations as per Provincial guidelines.
• Children
Independent computer access is permitted for members aged ten (10) and over. Any members under the age of ten (10) must be accompanied by a competent caregiver as outlined in the Library's Unattended Children policy .
• Health Screening
All members accessing the Library branch will undergo a health screening before entering. Any indication that a member is experiencing symptoms listed on the screening will result in being denied entry. The health screening will be conducted via paper survey, using the same indicators as Ontario's self-assessment . As per the direction of Public Health, this information is being collected for the purposes of contact tracing, and it will be destroyed after a period of 6 months from the date the assessment was completed.
• Face Masks
As per Durham Health recommendations, face coverings (i.e. non-medical face masks) must be worn at all times. Members are also asked to adhere to physical distancing guidelines, remaining 2 meters / 6 feet away from others when possible, and following posted signs, floor markings, and the direction of staff.
• Washrooms
Washrooms are not available to members of the public during computer access appointments.
• Additional Services
Children's Early Literacy Computers, Courtice Branch Studio, and scanning services are not available as part of computer access at this time. Printing services are available for free with a 10-page maximum.
• Appointment Length
Appointments are held to 45 minutes in duration; all Library computers will automatically shut down at the end of appointments. Members with work to save should be sure to save to an external device such as a USB stick, or via email, often during their booking. Appointments cannot be extended.
• Use of Library Computers
Members can access Library computers using their Library card number or a provided one-time use guest pass. Content access continues to be guided by the Library's Internet Access policy .
• Other Areas of the Library
As per Provincial directives, all shelves, lounge and study areas, and meeting rooms will remain closed to public.
• Personal Computers/Devices
Members are permitted to bring their own devices for computer access in branch, but they will be limited to working at designated areas and require a computer access booking for entry.
• Food & Beverages
Food is not permitted in the Library during computer access bookings. Beverages are permitted in sealable containers.
• Additional Items
Members are responsible for bringing any additional items they may require during their booking; shared items such as pencils, paper, or cables will not be provided.
• Cleaning & Disinfecting
All computers and peripherals, workstations, chairs, and other contact surfaces will be disinfected between time slots.
About the organizer
Clarington Public Library, Museums, & Archives is an active and valued cornerstone of the community. We strive to illuminate Clarington and its heritage through lasting and meaningful experiences. We deliver innovative, quality services, programs, and exhibitions out of locations in Bowmanville, Courtice, Newcastle, and Orono. Our supportive and friendly staff will help you find what you are looking for and make you feel welcome. We are proud to be a part of Clarington and help create a strong, cohesive community by empowering, enriching, and inspiring the lives of our residents and future generations.