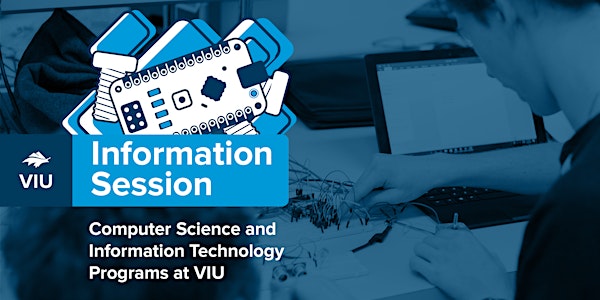 Computer Science and Information Technology Programs at VIU
Computer Science and Information Technology Programs at VIU: Information Session
About this event
Have you ever thought about a career in Computer Sciences or IT? Join us online on February 23 at 7 pm to learn more about VIU certificates, diplomas and degree programs that will help you build a career in these fields.
We'll be talking about programs that cover:
• Software Development
• Programming
• Systems and Networking Administration
• Web Development
• Data structures and algorithms
• Computer architecture
• Cybersecurity
• and Cloud Computing
During this event, we'll go over how our programs offer hands-on experiences to prepare you for the workplace as well as the various career paths available for our grads. You'll be able to talk with our instructors, current students and recent grads.
Some first-year courses are eligible for the Dual Credit program. If you're in Grade 11 or 12 you could start earning credits towards IT-related programs while you're still in high school! We'll talk about how this program works and if it's a fit for you.
Join us at our (Zoom) information session to find out more about the Computer Science and Information Technology diploma and degree programs offered at Vancouver Island University.
When: Tuesday, February 23, 7 pm PST
Where: Zoom