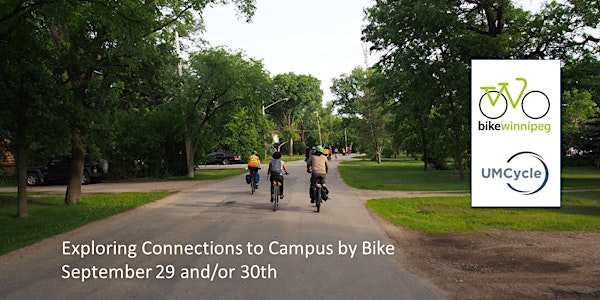 Connecting to Campus by Bike - West
A casual ride from the U of M to The Forks introducing you to a number of low stress bike routes leading to the U of M's Fort Garry Campus.
When and where
Location
UMCycle Bike Kiosk 45 Dafoe Road West Winnipeg, MB R3T 2M6 Canada
About this event
To the uninitiated, getting to campus by bike can be a daunting challenge. Fortunately, Winnipeg's growing bike network provides a number of safe, comfortable connections to the Fort Garry campus that can make the ride to and from University a highlight of your day.
Hop on your bike and join Bike Winnipeg and UMCycle on a casually paced ride from the U of M's Fort Garry Campus to The Forks that will help you find your cycling connection to campus. Our route to The Forks will take us along key low stress bike routes leading into the Fort Garry Campus while pointing out important east/west connections along our route.
On this western edition of the ride, we'll be riding to the Forks via the new South West Rapid Transit Corridor and Harrow bike lanes to bring us into West Broadway before turning East and continuing on to the Forks.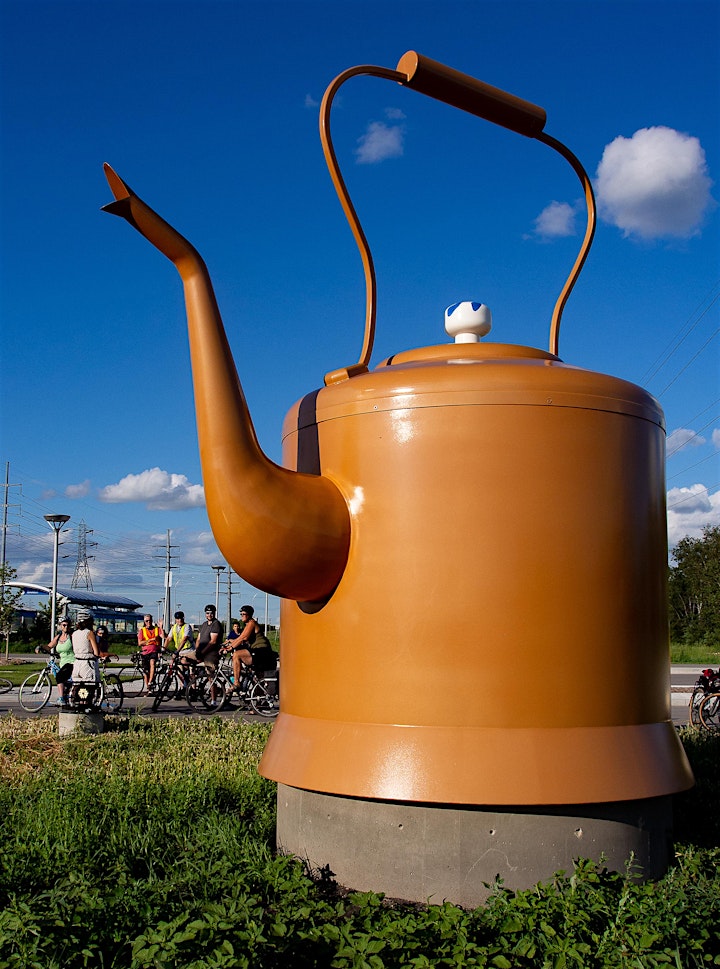 Including a quick orientation on services provided at the UMCycle Bike Kisok, an overview of bike parking and end of trip facilities at the Fort Garry Campus, and a few stops to talk about connections along our route, the ride will take about 2 hours to reach The Forks (vs the xxx minutes it will generally take.without stops).
Neighbourhood Connections
Pembina Strip
Waverley Heights
Bridgwater Forest
Linden Woods
East Fort Garry
Maybank
Beaumont
Fort Rouge
Lord Roberts/Riverview
River Heights
Wolseley
West Broadway
Downtown
Connecting Bike Routes
Bishop Grandin Greenway
McGillivray Pathway
Waverley Pathway
Taylor Pathway
Churchill Pathway
Elm Park Bridge
Thundering Bison Pathway
Harrow Bike Lanes
Warsaw/Nassau/Roslyn Neighbourhood Greenway
Wellington Crescent Open Street
Wolseley Ave Open Street
Sherbrook/Maryland protected bike lanes
Downtown Protected Bike Lanes
Destinations Along the Way
Grant Park Shopping Centre/Pan Am Pool
Downtown
The Forks
COVID-19 Precautions
To help ensure the safety of our ride participants, volunteers, and staff, we will be asking everyone to maintain a 2m distance between each other at stops and while riding. Sites have been selected to ensure space for social distancing, and we have limited ride sizes. If you are experiencing any symptoms, we ask that you please stay home. Finally, please note that we are not requesting the mandatory use of masks during our rides.