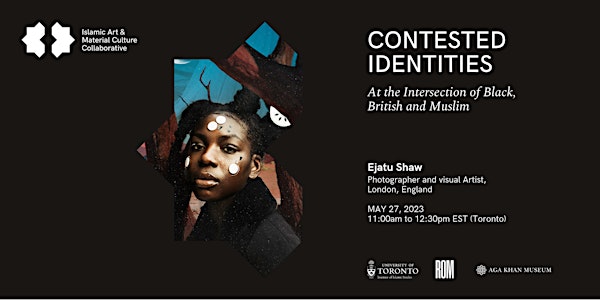 Contested Identities: At the Intersection of Black, British and Muslim
A conversation exploring multiple identities and the fractures within through Ejatu Shaw's photography.
About this event
1 hour 30 minutes

Mobile eTicket
Art and Activism in Contemporary Global Landscapes Series: Contested Identities: At the Intersection of Black, British and Muslim
The Islamic Art & Material Culture Collaborative (IAMCC) is pleased to announce the launch of the second iteration of its online conversation series. This new series entitled  Art and Activism in Contemporary Global Landscapes will take consist of 4 monthly sessions held on Zoom on Saturdays from February to May at 11 a.m. EST. Our 2023 series aims to highlight the intersectionality and dynamism of art and activism by hosting conversations with contemporary artists from Islamic contexts who create works of art that demand social and political change. All sessions are FREE but registration via Eventbrite is required. Please see below for a list of all the sessions.
This conversation will highlight Ejatu Shaw's debut photography series, Poly. Synonymous to "many" or "plural", Poly is an exploration of multiple identities and the conflicts within. Drawing on her Fulani heritage and Muslim upbringing in an immigrant household based in Britain, Shaw's photography draws upon Islamic references and diasporic African cultural tropes to depict her immersion as well as shift from both. This talk will highlight the complexities of dealing with multiple sparring identities, aspects of which cannot necessarily be discarded at will, and showcase Shaw's resulting nuanced, thoughtful and creative artistic practice.
Presenter Details:
Ejatu Shaw is a London based photographer and visual artist. In her work, she explores the intricacies of identity and her journey, photographing those around her and using self-portraiture to perform the various strands of her identity that she struggles to align with. Posing in front of the camera under the scrutiny of her own gaze is her way of being introspective and working through any anxieties she has regarding her idea of self. She is passionate about uplifting the black gaze and challenging institutions to give validity and priority to black photographers in their self-representation. She sees the collection of archives as a form of activism, and as a black female photographer acknowledges the importance of contributing to a forever growing archival pool of black representation. Having recently completed an MA in Photography Arts at Westminster, Ejatu was initially drawn to the medium of photography upon realising just how special the medium was in helping her to connect with others, giving her a new mode of expression. In addition to exploring her personal identity via her work, she also uses the medium to navigate life events, and has found image making to be the perfect release for experiences that she may struggle to come to terms with just with words.
This conversation will be hosted by Sanniah Jabeen, PhD candidate in Art History at the University of Toronto and Senior Fellow at the IAMCC.
About the IAMCC
The Islamic Art and Material Culture Collaborative (IAMCC), is a research network based in Toronto that brings together the capacities and resources of the University of Toronto (UofT), the Royal Ontario Museum (ROM), and the Aga Khan Museum (AKM). The IAMCC fosters advanced research in the study of Islamic art and material culture by acting as an inclusive space for researchers, curators, and students.
About the IIS
The IAMCC is housed at the Institute of Islamic Studies (IIS) at the University of Toronto. The IIS at the University of Toronto develops research projects that fill critical gaps in society's understanding of Islam and Muslims.
By centering Islam and Muslims, the IIS offers a critical viewpoint from which we can better understand our world.