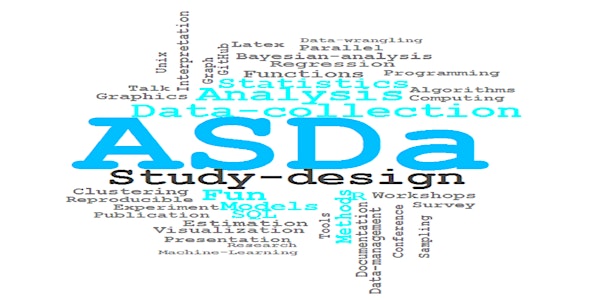 Copy of Practical application of linear mixed effects models
Understand complex correlated data structures, clearly formulate problems and solve them by applying the appropriate methodologies.
By Applied Statistics and Data Science Group, UBC
Date and time
Tue, Feb 7, 2023 10:00 AM - Thu, Feb 9, 2023 12:00 PM PST
Refund Policy
Contact the organizer to request a refund.
Eventbrite's fee is nonrefundable.
About this event
In this webinar series of two 2-hour sessions, we will show how to analyze complex correlated data structures.
We will start by clearly formulating the research questions and analyzing the data to answer these research questions. We will first show how to explore the research question using Exploratory Data Analysis and then by using mixed effects models. We will discuss appropriate model specification to answer the specific questions, model assumptions and model diagnostics techniques. Through questions and exercises we will demonstrate how small changes in the research questions will change the appropriate visualizations and model specifications. We will also discuss the limitations of the study design as well as of the analysis itself. While R code for hands-on guidance is provided, the primary focus of this webinar will be on the methodological aspects, but implementation aspects will be discussed for a complex case. You will learn:
- Problem formulation and the importance of the prioritization of the research questions;
- Study design considerations, power of the study design and power of the analysis;
- Exploratory data analysis appropriate for the research question;
- Statistical models specification appropriate to answer the specific research question, including model diagnostics to validate the model assumptions;
- Post-hoc analysis involving generating tables and graphs from the models;
- Interpretation of the results, including R code to automate the interpretations;
- Discussion on the limitations of the study design and the analysis itself, including discussing the strength of the evidence that would allow for making inferential statements.
This webinar will take place online, Zoom link will be provided to participants prior to the webinar via email.
Sessions
This is a 2 part webinar series. Your registration covers 2 sessions, totaling 4 hours of instruction.
Day 1: Tuesday, Feb 7th, 2023, 10:00 am - 12:00pm
Day 2: Thursday, Feb 9th, 2023, 10:00 am - 12:00pm
Funding and Fees
Webinar fees are collected on a cost-recovery basis only. We strongly encourage non UBC Science students and postdocs interested to ask their research supervisors to cover these fees in order to sustain the webinar initiative. Supervisor payments can be made directly to Applied Statistics and Data Science Group, UBC using UBC Workday. Contact us for more information on how to effect this process.
Pre-requisites
Linear regression, basic understanding of data visualization
Contact
For questions or further inquires, please contact asda@stat.ubc.ca. For more events, take a look at our event calendar
This webinar was funded by [Strategic Innovation Fund](https://science.ubc.ca/about/plan/projects) at UBC Science .
Also check out other Workshops in Vancouver.
About the organizer
Advanced statistical modeling webinar series descriptions (Feb 2023)

This webinar series was made possible via joint collaboration between Faculty of Science (FOS) and Applied Statistics and Data Science Group (ASDa), funded by the FOS Strategic Innovation Fund.

Statistics is a scientific discipline that enables reaching meaningful conclusions from data. To produce reliable results, you need to justify the choice of the applied statistical methods and models as well as validate the underlying assumptions.

This series of four 2-hour webinars provides introductions to the foundational concepts of advanced statistical methodologies in linear mixed effects models and Bayesian analysis. We will discuss how to formulate research questions as well as appropriately apply various exploratory data analysis tools and complex statistical models. We will also review how to interpret results from these methods. The aim is to equip the attendees with a deeper understanding of the key concepts of statistical methodology, rather than solving specific project problems. While R code for hands-on guidance is provided the focus of this series will be on the methodological aspects.

Each webinar is a self-contained introduction to different advanced statistical concepts, but as topics become increasingly complex with each consecutive webinar, some aspects will be built on concepts taught in the previous sessions including the webinar series on foundational concepts. Hence, there is benefit in attending all the webinars.

If you are a graduate student and have questions about your specific project, please see ( https://asda.stat.ubc.ca/sos/ ) to book a one-hour free statistical consultation.