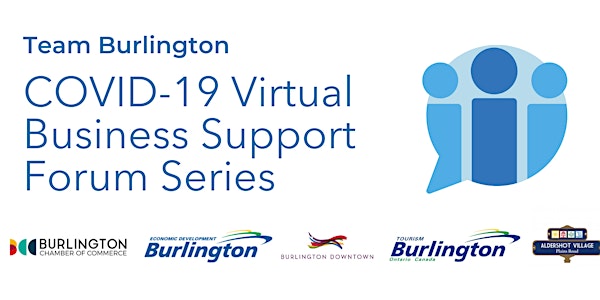 COVID-19 Burlington Business Support Forums
COVID-19 Virtual Business Support Forum Series
About this event
Between April 2 and April 17, Team Burlington will host the COVID-19 Virtual Business Support Forum Series, a video conference series to provide businesses of all sizes with an opportunity to ask questions and hear from subject matter experts, as well as key leaders and decision-makers from all levels of government.
Municipal and Regional Business Support Forum - April 2nd at 10AM - 11AM
Provincial & Federal Business Support Forum - April 6th at 10AM - 11:30AM
Small Business Support Forum - April 16th at 10:30AM - 11:30AM
You will receive an email with the Zoom access information. If you do not receive it please check your junk mail first, if you have still not received it please email andie.weese@burlington.ca.
Leveraging the Zoom platform, representatives from Burlington's business community will have the opportunity to ask questions specifically related to the impacts of COVID-19 on the local, provincial, and federal economies. With the impacts of COVID-19 already being felt close to home, we also understand there is a great deal of uncertainty about how businesses will be supported, how and if operations can continue, and what the economic outlook will be once this is behind us. While we don't have all of the answers, we hope this will be a helpful opportunity to help businesses navigate through the changing landscape and provide up-to-date information.
Each forum will focus on a different level of government in order to help make sense of the information being rolled out, as well as the economic impacts that are already occurring at different scales.
We've also dedicated a forum to small businesses. Small businesses may be considered "small" by definition, but we know they're a really big deal. Companies with less than 100 employees make up a significant portion of our local economy, and we recognize the unique challenges that COVID-19 is imposing on them. We want to ensure this group is heard and represented.
This is a free event, and open to all businesses with a Burlington address. Participation is limited to 300 participants in each forum, and registration will be on a first come, first serve basis. The small business forum will be reserved for companies with less than 25 employees.
To ensure our business community has priority access to this important opportunity, we are asking that if you do not represent a Burlington business, please wait for the questions and responses to be posted online following the event.
Small Business Support Forum - April 16th at 10:30AM - 11:30AM
Kelvin Galbraith, Ward 1 Councillor, City of Burlington
Lisa Kearns, Ward 2 Councillor, City of Burlington
Craig Kowalchuk, Owner of Emma's Back Porch & Water Street Cooker and President of Burlington Restaurant Association
Jenna Puletto, Special Business Area Coordinator, City of Burlington
Judy Worsley, Executive Director, Aldershot Village BIA
Brian Dean, Executive Director, Burlington Downtown Business Association (BDBA)
Asif Aziz, Manager of Business Markets, Halton Region, RBC
Stephanie Mazhari, Manager of Entrepreneurship Services, Halton Region
Prince Khan, Business Consultant, Halton Region
Other representatives TBA