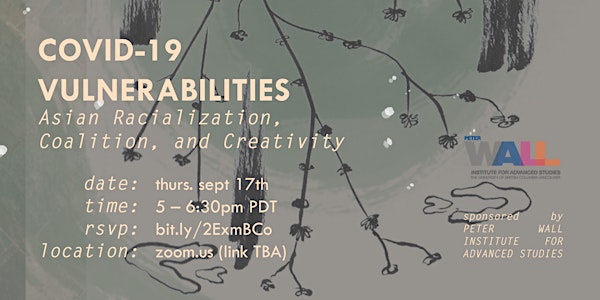 COVID-19 Vulnerabilities: Asian Racialization, Coalition and Creativity
COVID-19 Vulnerabilities: Asian Racialization, Coalition and Creativity (Virtual roundtable)
About this event
Join us for a conversation about Asian racialization and the multiple meanings of "vulnerability" in the unfolding global pandemic. The roundtable will consider how COVID-19 amplifies the precarity of particular communities, and how creativity, art and interdependence in mutual aid might address such inequities. Our panel of scholars, artists and community organizers will situate this global crisis within histories that connect Vancouver, and Canada more broadly, to Asia, and discuss possible anti-racist practices and policies.
Event is free and open to all. Registration required to access virtual event link.
Panel speakers:
Ethel Tungohan and JP Catungal
Stephanie Comilang
Kevin Huang
Anjuli Fatima Raza Kolb
Tina Pang
Y Vy Truong
Event info:
Date: Thurs. Sept 17th, 2020
Time: 5-6:30pm (PDT/Pacific Daylight Time)
Location: Zoom.us (Link TBA)
We would like to acknowledge that this virtual event will be hosted from the unceded, ancestral, and occupied territories of the Musqueam, Squamish, and Tsleil-Waututh peoples. As this is a virtual event, we may all be based on different Indigenous territories. Learn more about where you are situated: https://native-land.ca
This event is sponsored by the UBC Peter Wall Institute for Advanced Studies.
=========================
*** Accessibility ***
This event will take place on Zoom.us, a video conferencing platform. No Zoom account or app is required to access the event, but participants will need access to a computer or device with working internet to open the Zoom link on desktop or browser.
There are currently no ASL interpreters booked for this event. This event requires a working WiFi connection and may not be suitable for those with EMS (electromagnetic sensitivity).
While there will not be an active listener, you can contact the program or any staff member for links to UBC mental health resources and phone lines. Please note that we are not trained to support with counselling, mental health emergencies, or crises.
*** Safety & Privacy ***
This event will be recorded as a public resource for future educational purposes. We ask participants to respect others' privacy by refraining from recording any part of the event (e.g. via video, screen record, photography, screen captures, etc) unless consent is requested and expressly given. [An earlier version of this section stated that the event would NOT be recorded in any way; this was changed on Sept 4th to reflect the actual program of events. We apologize for any confusion.]
During this event, your video/audio will not be shown. There will be a moderated Q&A chat box where participants can type their questions and responses.
We do not use the attention-tracking feature on Zoom.
Only registered participants will receive passwords for the Zoom event link.
=========================
* If you have questions or accessibility needs not listed here, please contact acam.events@ubc.ca by Thurs. Sept 10th. *
=========================
Panelist Bios:
Anjuli Raza Kolb is associate professor of English at the University of Toronto, where she teaches poetry and postcolonial theory and literature. She has taught at Williams College, held the Edward W. Said Fellowship at Columbia's Heyman Center for the Humanities, and served as visiting expert scholar in Women's Studies at City College, New York. Her scholarly book Epidemic Empire is forthcoming from the University of Chicago Press in 2020. She is also completing two collections of poems: Janaab-e Shikva (Watchqueen), after the Pakistani poet Iqbal, and Mantiq al Tayl (Birdbrains). Her poems, essays, and translations from Urdu have appeared or are forthcoming in the Los Angeles Review of Books, Boston Review, Triple Canopy, The Poetry Foundation, FENCE, Critical Quarterly, Guernica, Words Without Borders, The Yale Review, and more.
Stephanie Comilang is an artist living and working between Toronto and Berlin. Her documentary based works create narratives that look at how our understandings of mobility, capital and labour on a global scale are shaped through various cultural and social factors. Her work has been shown at Transmediale Berlin, Ghost : 2561 Bangkok Video & Performance Triennale, S.A.L.T.S Basel, Tai Kwun Hong Kong, International Film Festival Rotterdam, and Asia Art Archive in America, New York. She was awarded the 2019 Sobey Art Award, Canada's most prestigious art prize for artists 40 years and younger.
Tina Pang is Curator, Hong Kong Visual Culture at M+, due to open in 2021. She is currently planning the new museum's opening displays of Hong Kong visual culture. Her curatorial projects have also included the M+ Pavilion exhibition, Ambiguously Yours: Gender in Hong Kong popular culture (2017).
Ethel Tungohan is a Canada Research Chair in Canadian Migration Policy, Impacts and Activism and an Assistant Professor in the Department of Politics at York University. She is a big proponent of socially engaged research and has collaborated with community organizations on many research projects. Currently, she is collaborating with the Migrant Resource Centre Canada and Gabriela-ON on a project looking at the experiences of Filipina Care Workers during COVID19 using photovoice and Participatory Action Research (PAR) methodologies. She is also collaborating with Dr. John Paul Catungal on a project examining the experiences of Asian international students during COVID19. Her work has been published in numerous peer-reviewed academic journals. She is also a co-editor of the edited volume "Filipinos in Canada: Disturbing Invisibility," published by the University of Toronto Press in 2012.
John Paul (JP) Catungal is an Assistant Professor in the Institute for Gender, Race, Sexuality and Social Justice and a Faculty Fellow of the Public Humanities Hub at UBC. JP also holds faculty affiliations in Asian Canadian and Asian Migration Studies, Geography and Critical Studies in Sexuality. JP's research examines community organizing and cultural production as practices through which migrant, racialized and LGBTQ communities imagine and prefigure more socially just worlds and, in so doing, offer critical analyses of the here and now and its histories. Along with publishing journal articles and book chapters, JP has co-edited special issues on Queer Asian Canada for TOPIA: Canadian Journal of Cultural Studies and on geographies of sexualities in Canada for ACME: International Journal of Critical Geographies. JP was co-editor of Filipinos in Canada: Disturbing Invisibilities, published in 2012 by the University of Toronto Press.
Y Vy Truong is a second-generation Vietnamese settler living on the occupied lands of the three title holding nations: xʷməθkʷəy̓əm (Musqueam), skx̱wú7mesh (Squamish), səlílwətaʔ/sel̓íl̓witulh (Tsleil-Waututh). As the co-founder and Community and Public Engagement coordinator of Bảo Vệ Collective (BVC), her work is centred on creating ethical research practices, information justice, and grassroots organizing. In January 2021, she will be attending the University of British Columbia (UBC) for her Masters of Library and Information Studies (MLIS). Bảo Vệ Collective is a group of grassroots community organizers working to empower Vietnamese youth in creating more equitable communities. Co-founded by Mimi Nguyen (COVID-19 Project Lead), Kathy Thai (Design and Communications), and Y Vy Truong (Public and Community Engagement), the aim of Bảo Vệ Collective is to find ways to connect and engage Vietnamese youth across Canada in conversations about civic engagement.
Kevin Huang 黃儀軒 (he/him or they/them) is the co-founder and executive director of hua foundation, an organization – based in Vancouver - with the mission of empowering youth in the Asian diaspora to fully participate in advancing social change through exploring racialized identities and building resilience in communities. His work has ranged from scaling culturally sensitive consumer-based conservation strategies through a project called Shark Truth, advancing municipal food policy to address inclusion and racial equity, to providing supports for youth from ethnocultural communities to reclaim their cultural identity on their own terms. Kevin organizes in Vancouver's Chinatown and serves on committees with Vancity Credit Union, Vancouver Foundation, the City of Vancouver, and the Province of British Columbia. Most recently, Kevin has been spending his time directing community based COVID-19 response projects that address language and cultural gaps. He is currently working remotely from Taiwan.