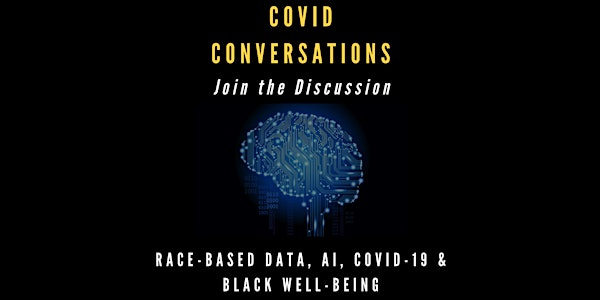 COVID Conversations Symposium Part 1
COVID Conversations Symposium Part 1: Race-based data, AI, COVID-19 & Black Well-Being
About this event
This symposium explores the relationship of surveillance, data collection, public health, AI, the COVID-19 pandemic, and the implications for Black communities in Canada and beyond. Over 2 days we bridge disciplines and conversations, bringing together academic and community scholars, clinicians, historians, the front lines, and organizers. For the full program, click here.
We hope to support attendees in thinking through opportunities for critical collective action in their neighborhoods, institutions, and in the streets.
This event has multiple sessions: please feel free to sign up for all or some of them. Session information below:
Friday May 29th
1:30-2:00pm EST: Land acknowledgements and introduction to the symposium. We will provide an overview of the content, discussants, and format.
2:00-4:00pm EST: "Black Well-Being in Past-Present Tense: How lessons from the Black Power movement and contemporary histories can guide pandemic responses".
This session will feature Lynn Jones, Rinaldo Walcott, and David Austin in a discussion about the intersections of Black Life with history, data, and the efficacy of race-based data demands during the pandemic.
Saturday May 30th
10:00am - 12:00pm EST: "We've been here before: HIV, COVID-19 and community health...Lessons from the Front Lines".
In this session Ruth Cameron, Dane Record, and Alexander McClelland will explore the connections between community health, COVID-19 and the HIV/AIDS pandemics. This discussion will also explore why we do not need to reinvent the wheel regarding public health responses, given the over 30 years of knowledge gained in the community-based HIV/AIDS response. Panelists will also query what new challenges and benefits AI may present for data privacy and resource allocation.
7:00-9:00pm EST: "Data, AI, Public Health, Policing, the Pandemic, and Un-Making Carceral States".
In this session Idil Abdillahi, Ruha Benjamin, Desmond Cole, and LLana James will examine the intersections of race-based data demands within the context of AI and the implications for Black community well-being and possible futures.