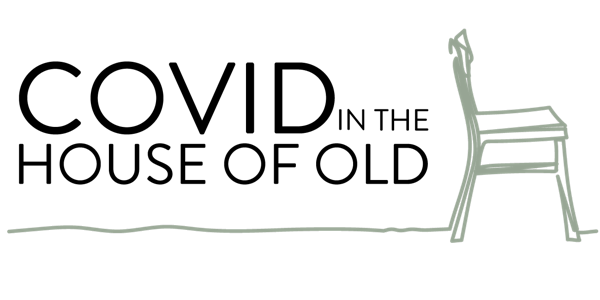 COVID in the House of Old: Virtual Launch and Artist Talk
A storytelling experience intended to honour and to educate.
About this event
One of Canada's first public commemorations of the pandemic, COVID in the House of Old is a poignant multimedia installation. This exhibition acknowledges the thousands of seniors who died in care homes or endured months of isolation, the staff who faced an overwhelming burden of care, and the families and friends unable to visit or help their loved ones.
Join exhibition creator, York University Professor Dr. Megan J. Davies via Zoom Webinar at 1 pm PST on January 14, 2022 for an artist talk and virtual launch.
During this special event, Davies will take guests on a tour of the online exhibit and share from her interviews with long term care residents, family members, and care workers she met while constructing the project.
Special Guest Speaker Bios
Kim Fraser
Executive Director of a community health centre in Toronto. For the past 16 years, her focus has been on primary community care, health promotion, and community support services for at-risk and marginalized groups. Kim's mother died of COVID 19 early in the Pandemic on April 16, 2020, at the long-term care home Rekai Wellesley Central Place in Toronto. Kim is pleased to be part of the COVID in the Houses of the Old Exhibit because she wants to honour her late mother. Kim also believes that the exhibit will bring awareness to the indifference, neglect, and deep sadness that many of our elders in long-term care experienced during COVID and continue to experience today.
Bernadette Cheung
CPA who specializes in building financial reporting functions for hyper-growth startups. Her grandmother was one of 41 victims of the COVID-19 outbreak at Little Mountain Place in December 2020. The trauma from this loss propelled Bernadette to speak openly about the failures of long-term care in BC, and she hopes to continue bringing attention to this issue until tangible reform is achieved.
Antoinette Cheung
Holds an MPH from the University of Manchester and works as a researcher in the field of health economics. Her grandmother was one of 41 victims of the COVID-19 outbreak at Little Mountain Place in December 2020. Influenced by her grandmother's decades of giving back to the community as a dedicated volunteer, Antoinette serves on the Board of the Planned Lifetime Advocacy Network to support its mission of building an inclusive community for people with disabilities