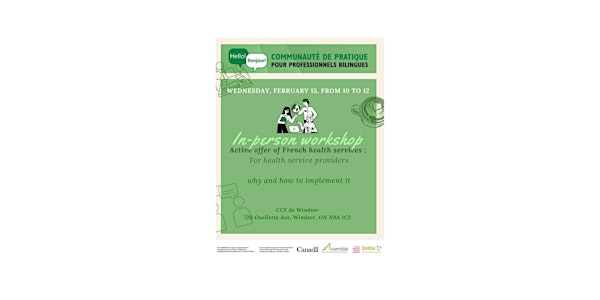 CPPB Regional Outreach Tour (English)
CPPB Development, Awareness and Networking Tour - Active offer (English)
By Communauté de Pratique des Professionnels Bilingues (CPPB)/ Community of Practice for Bilingual Professionals (CPBP)
Date and time
Wed, Feb 15, 2023 10:00 AM - 12:00 PM EST
Location
Le Centre communautaire francophone de Windsor-Essex-Kent 720 Ouellette Avenue Windsor, ON N9A 1C2 Canada
About this event
The Regional Outreach Tour promotes networking between bilingual professionals in the fields of health and well-being, supports the active offer of health services in French to service providers and obtains the regional perspective of professionals on health system issues.
The tour will visit the cities of London, Windsor and Sarnia. A regional plenary bringing together service providers, partners and bilingual professionals from the greater Southwest region will take place in Chatham on March 29, 2023.
For more information about the Awareness Tour and upcoming meetings, visit https://cppbsud-ouest.ca/28/Formations/
For more information on the Community of Practice for Bilingual Professionals (CPPB), visit https://cppbsud-ouest.ca/
To become a member of the Community of Practice in order to stay on the lookout for useful resources and collaborate with other bilingual professionals, visit https://cppbsud-ouest.ca/1/Comment_devenir_membre/
________________________________________________________________________________________________
The Erie St. Clair/Southwest French Language Health Services Planning Entity (Entité 1) was the recipient of a grant under the "Multiplier Effect" program administered by the Assemblée de la francophonie de l'Ontario ( AFO). Entité 1 expresses its gratitude to the AFO, the Government of Canada and the Federal Economic Development Agency for Southern Ontario (FedDev) who encourage this financial support intended to sustain economic development in Ontario.
About the organizer
    La communauté de pratique souhaite devenir un forum pour les intervenants de la grande région du Sud-Ouest. Vous pourrez tisser des liens, augmenter la visibilité des services en français, collaborer et favoriser le développement des services en français.
     Vous y trouverez des renseignements, des ressources, des outils et surtout une communauté de soutien virtuelle (Healthchat) pour vous appuyer dans votre travail et accroître vos aptitudes à offrir des services en français.
     The Community of Practice for Bilingual Professionals (CPBP) believes that bilingual professionals are a valuable resource to their respective organizations. As a result, the CPBP works  strategically to create improved pathways and strategies in order to direct Francophones to culturally and linguistically appropriate services. 
        Whether you are in human resources or professional from the health and addiction or social and well-being service fields, you will find on this site information, resources, tools and most importantly, an online support community HealthChat to assist you in your work and to help you increase your ability to offer services in French.