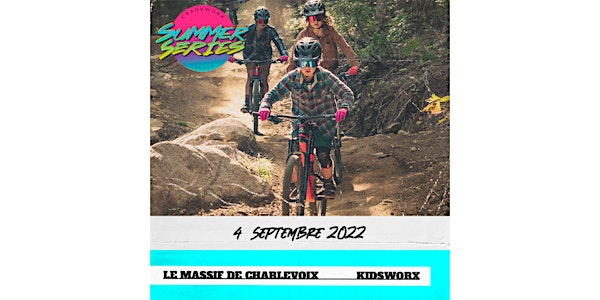 Crankworx Kidsworx challenge day – Massif de Charlevoix
KIDSWORX CHALLENGE DAY - Learning & Development Zone with COACH
When and where
Location
Le Massif de Charlevoix (stationnement en haut) 185 Chemin du Massif Petite-Rivière-Saint-François, QC G0A 2L0 Canada
About this event
Offered to youth between the ages of 6 and 14.
Learning & Development Zone with COACH
Schedule
Block 1 - 10:00AM: Beginner (Positioning and speed management)
Block 2 - 11:30AM: Intermediate (Turns)
Block 3 - 1:30pm: Intermediate (Jumps and drops)
Block 4 - 3pm : Advanced (Turns, jumps and drops)
Descending with a PRO/AMBASSADOR
Sign up to ride with a professional athlete and/or celebrity ambassador
You must have a day ticket or a pass to participate:
https://www.lemassif.com/fr/billets-et-passes/ete/billets-journaliers-velo-de-montagne
MEET & GREET -4pm to 5pm
KIDWORX CHALLENGES - ACTIVITIES/COMPETITIONS
Multiple competitions will take place throughout the day. Fun competitions open to all.
SUNDAY FUNDAY PARTY
An artist/band will close the day with a festive atmosphere on the iconic MixBus stage. This iconic school bus has been outfitted to provide a unifying and flamboyant performance. DJ will be on hand all day to set the mood on top of the mountain.
SCHEDULE
11AM @ 5:30PM // DJ Set-Playlist
5PM @ 6PM // Show
__________________________________________________________
Offert aux jeunes âgés de 6 à 14 ans.
Zone d'apprentissage et de développement avec COACH
Horaire
Bloc 1 - 10h00 : Débutant (Positionnement et gestion de la vitesse)
Bloc 2 - 11h30: Intermédiaire (Virages)
Bloc 3 -13h30: Intermédiaires (Sauts et drops)
Bloc 4 - 15h00: Avancé (Virages, sauts et drops)
Descendre avec un PRO/AMBASSADOR
Inscrivez vous pour faire une descente de piste en compagnie d'un athlète professionnel et/ou ambassadeur de renom.
Vous devez avoir un billet journalier ou une passe pour participer:
https://www.lemassif.com/fr/billets-et-passes/ete/billets-journaliers-velo-de-montagne
MEET & GREET -16h00 à 17h00
KIDWORX CHALLENGES - ACTIVITÉS/COMPÉTITIONS
De nombreuses compétitions auront lieu tout au long de la journée. Des compétitions amusantes ouvertes à tous.
SUNDAY FUNDAY PARTY
Un artiste/Band closerons la journée en beauté en mettant une ambiance festive et le tout sur l'iconique scène d'un MixBus. Un bus scolaire iconique et aménagé pour offrir des spectacles rassembleurs et flamboyants. Un DJ prendra place toute la journée pour mettre la bonne ambiance sur le sommet de la montagne.
HORAIRE
11 h à 17 h 30 // DJ Set-Playlist
17h00 à 18h00 // Spectacle