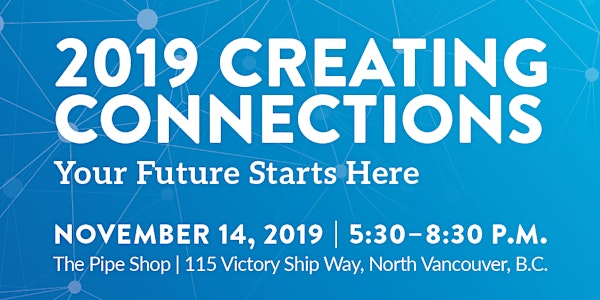 Creating Connections 2019
By Capilano University Career Development Centre and the Faculty of Business and Professional Studies
Date and time
Thu, Nov 14, 2019 5:30 PM - 8:30 PM PST
Location
The Pipe Shop 115 Victory Ship Way North Vancouver, BC V7L 0B2 Canada
Description


GET YOUR TICKETS EARLY TO AVOID DISAPPOINTMENT!
Creating Connections had its inception in 2006 as a forum for business professionals to connect with future Faculty of Business and Professional Studies graduates of Capilano University. The event enables business leaders to meet with some of the best and brightest future graduates and is also an excellent opportunity for these students to interact with potential employers.
---

Here are just a few comments from the business community and students from previous Creating Connections events:
I had an incredible experience at "Creating Connections". I was very impressed with the talent and level of enthusiasm the students showed. They expressed eagerness to grow within their respective fields and it was refreshing to learn that some of the students had a creative and unconventional outlook on business and entrepreneurialism. I must also add that the food was excellent! – Pete Banicevic, Tagga Media (Creating Connections 2014)
Creating Connections is a fantastic event for Capilano students to mingle with alumni and industry professionals because making a good first impression could lead to business opportunities that would have not existed otherwise! It is beneficial for both students to meet potential employers, and for industry professionals to meet the most enthusiastic business students Capilano has to offer. I was very positively impacted by the Creating Connections event and I am hopeful it will continue annually for future business students. – Nicole Delgiglio, BBA Student (Creating Connections 2014)

I was impressed with the organization and positive energy at the great event. I had opportunity to meet some great students and professionals. I'm looking forward to the next one. – Gordana, (Creating Connections 2014)
I met really inspiring and memorable individuals at the event. Plus, having been surrounded by young, talented, well educated, intelligent and well groomed upcoming business leaders of tomorrow – Marina Kaplun, Martec(Creating Connections 2015)
Thank you for putting together such a fabulous event! I thoroughly enjoyed meeting all of the students and was highly impressed by their due diligence in following up after the event. I'm sorry we did not have the chance to meet personally. I would love the opportunity to attend next year's Creating Connections event. – Truzanne Claasen, Sales Talent Agency (Creating Connections 2015)
The culture at Capilano University's Career Services and School of Business is nurturing in the development of successful careers in the corporate culture. I met bright eyed students at Creating Connections; they asked intelligent questions and were keen to explore opportunities. Kudos to staff and the student body for an engaging event. – Yehudi Altman, President, TRIPS Marketing Ltd. (Creating Connections 2016)
It was a great atmosphere, I felt welcomed the moment I walked in. Everyone was keen to network and the place was a buzz with conversations. The keynote speaker was a great touch to the evening as his talk was a personal story about his experience in business. I look forward to attending again next year. – Kyle Treleaven, GM Vancouver, BrainStation (Creating Connections 2016)
I have attended this event for the last 3 years and have enjoyed the experience of connecting with students. I am impressed with the level of professionalism and some are truly outgoing. The students that approach me as a business are the ones that really shine and are memorable. – Vicki Magnison, Sales & Marketing Director, North Shore News (Creating Connections 2016)
---
Take advantage of this great opportunity to meet the talented Capilano University business, communications, and legal studies students who are eager to get to know you and your organization. We look forward to seeing you there!
For more information, contact:

604-990-7872 / creatingconnections@capilanou.ca
---

Thank you to our sponsors!
Title Sponsor:

Bronze Sponsors:
Media Sponsor: