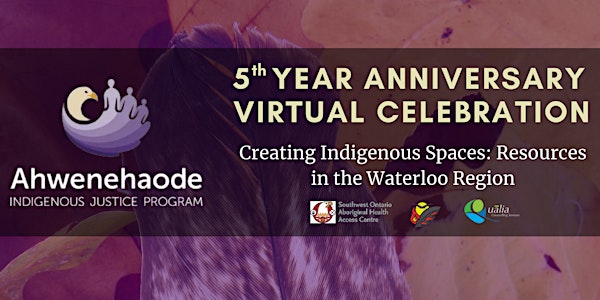 Creating Indigenous Spaces: Resources in the Waterloo Region
Celebrate Ahwenehaode Indigenous Justice Program's 5th Year Anniversary virtually with us!
About this event
Description: In celebration of Ahwenehaode's 5th Year Anniversary, please join Waterloo Region Community Legal Services in partnership with SOAHAC, Qualia Counselling Services and Crow Shield Lodge to discuss Indigenous resources available in the Waterloo Region and the work our organizations are accomplishing. We will also discuss the needs of the Indigenous Community and how we can work together to continue building a network of supports as well as how mainstream organizations can work as allies.
The session will be moderated by Lu Roberts, joined by panelists: Charisse Sayer, (SOAHAC); Clarence Cachagee, )Crow Shield Lodge); Melissa Ireland, (Qualia Counselling Services).