We examine visible and invisible challenges faced by Disabled creators, some solutions, and the unique voice they bring to storytelling
About this event
1pm ET (10am PT, 11am MT, 2pm AT)
#CripTheScript is a term coined by multi award winning Disabled writer, performer, and producer Ophira Calof. What does it mean? To challenge, reframe, and reclaim language, systems, stories and stages to centre 'Crip', or disability, identities, experiences, and culture.
This event will examine challenges and solutions faced by Disabled creators on set and on screen, how we can move beyond 'inclusivity' as simply a buzzword, and the unique voice Disabled artists bring to storytelling.
----
#CripTheScript est un terme inventé par Ophira Calof, écrivaine, actrice et productrice plusieurs fois primée. Qu'est-ce que ça veut dire? Remettre en question, recadrer et se réapproprier la langue, les systèmes, les histoires et les étapes pour que le handicap (« crip ») soit inclus dans la culture.
Cet événement mettra de l'avant les défis auxquels sont confronté.e.s les créatrices et créateurs en situation de handicap, tant sur les plateaux de tournage qu'à l'écran. Comment faire pour que le terme « inclusivité » ne soit pas qu'un simple mot à la mode? Comment reconnaître la voix unique que ces artistes peuvent apporter aux histoires? Cette rencontre ira bien au-delà des constats et nos invité.e.s partageront des solutions pour un réel changement
ASL/LSQ interpretation is available for this event thanks to the generous support of / Cet évènement sera interprété en langue des signes grâce au soutien de :

AMI is a not-for-proft media company that entertains, informs and empowers Canadians who are blind or partially sighted.
Please scroll to the end of this page for AMI's amazing scholarship, paid internship and apprenticeship, pitch, and research opportunities!
--
AMI est entreprise de médias sans but lucratif qui divertit, informe et responsabilise les Canadiens aveugles ou malvoyants.
Veuillez faire défiler la page jusqu'au bout pour découvrir les incroyables possibilités de bourses d'études, de stages et d'apprentissages rémunérés, de présentations et de recherches offertes par AMI !
Our panelists and moderator are/Nos panélistes et modératrice sont:

Ophira Calof (She/They) is a multi award winning Disabled writer, performer, and producer. Her work weaves together music, comedy, and storytelling, centring disability and chronic illness experience. They co-created the sketch comedy revue Generally Hospital (Canadian Comedy Award Nominee, Patron's Pick, David Seguin Memorial Award), her solo show, Literally Titanium, was developed through the Buddies in Bad Times Emerging Creator's Unit before premiering at the 2020 Next Stage Theatre Festival, and they are currently the host of Slumber Party, a talk show on Bad Dog Comedy TV. Ophira also works as a curator, workshop facilitator, consultant, and keynote speaker with projects including COVID-19 through a Disability Lens: Storytelling and Filmmaking Project, Laugh With RAFF: A night of disability comedy, and Bad Dog Theatre's 5th annual Our Cities On Our Stages Symposium. Ophira graduated from Second City's Writing and Sketch Conservatory programs, was featured in the Second City 2018 Toronto Diversity Fellowship Showcase, and is the 2018 recipient of the Tim Sims Encouragement Award.
--
Ophira Calof (Elle / Eux) est une scénariste, interprète et productrice handicapée plusieurs fois primée. Son travail, qui mêle musique, comédie et narration, est centré sur le handicap et l'expérience des maladies chroniques.
Elle a co-créé la revue de comédie à sketchs General Hospital (nominée au Canadian Comedy Award, Patron's Pick, David Seguin Memorial Award), son exposition personnelle, « Literally Titanium », a été développée par le Buddies in Bad Times Emerging Creator's Unit et a été présentée en première au Next Stage Theatre Festival de 2020.
Elle est actuellement l'animatrice de « Slumber Party » un talk-show sur Bad Dog Comedy TV. Ophira travaille également en tant que commissaire, animatrice d'atelier, consultante et conférencière d'honneur avec des projets tels que « COVID-19 à travers un objectif de handicap: Projet de narration et de réalisation de films », « Rire avec RAFF: une nuit de comédie sur le handicap » et la 5e édition annuelle du symposium « Our Cities on Stage » de Bad Dog Theatre.
Ophira est diplômée des programmes d'humour « Second City » , a présenté un projet au festival Toronto Diversity Fellowship Showcase 2018 et est la récipiendaire 2018 du prix d'encouragement Tim Sims.
As the Edmonton Bureau Reporter for AMI This Week—AMI's weekly magazine show with a distinct community focus, sharing events and interesting stories from coast to coast—Beth has reported on a variety of stories in the disability community. From spotlighting a mental health magazine directed at teens, to interviewing a 20-year-old Oji-Cree man who is blind and taking the Canadian music industry by storm, to her own feelings on people who insist on petting her guide dog, Beth delivers her reports with curiosity and humour.
Since joining AMI, Beth has—as a host of AMI-tv original productions—explored Canada's West Coast in Postcards from Vancouver Island, and delved into the emotional bond between guide dogs and their human partners in Follow My Lead. Her upcoming documentary, Wheel Girl Stories, follows The Alberta Wheel Girls group, a community of women who talk openly about their experiences as wheelchair users. It has become a "sisterhood," a group of supporters, listeners, and good friends.
Originally from East Sussex, England, Beth Deer followed her love, Cody, to Canada and has been here ever since. Born with optic nerve hypoplasia and latent nystagmus, Beth lost her sight in 2014. A die-hard soccer fan (Manchester U), Beth has fully immersed herself in the Oiler nation. She and her guide dog, Patronus, are thrilled to be part of the AMI family.
--
En tant que journaliste du Bureau d'Edmonton pour AMI This Week - le magazine hebdomadaire d'AMI avec un accent distinct sur la communauté, partageant des événements et des histoires intéressantes d'un océan à l'autre - Beth a rendu compte de diverses histoires dans la communauté des personnes handicapées. Qu'il s'agisse de mettre en lumière un magazine de santé mentale destiné aux adolescents, d'interviewer un homme oji-cri âgé de 20 ans qui est aveugle et qui prend d'assaut l'industrie de la musique canadienne, à ses propres sentiments sur les personnes qui insistent pour caresser son chien-guide, Beth livre ses rapports avec curiosité et humour. Depuis qu'elle s'est jointe à AMI, Beth a, en tant qu'animatrice de productions originales d'AMI-tv, exploré la côte ouest du Canada dans des cartes postales de l'île de Vancouver et a exploré le lien émotionnel entre les chiens-guides et leurs partenaires humains dans Follow My Lead. Son prochain documentaire, Wheel Girl Stories, suit le groupe Alberta Wheel Girls, une communauté de femmes qui parlent ouvertement de leurs expériences en tant qu'utilisatrices de fauteuils roulants. C'est devenu une «fraternité», un groupe de partisans, d'auditeurs et de bons amis. Originaire de l'East Sussex, en Angleterre, Beth Deer a suivi son amour, Cody, au Canada et y est depuis. Née avec une hypoplasie du nerf optique et un nystagmus latent, Beth a perdu la vue en 2014. Fan de football inconditionnel (Manchester U), Beth s'est complètement immergée dans la nation Oiler. Elle et son chien-guide, Patronus, sont ravis de faire partie de la famille AMI.

Thurga Kanagasekarampillai was born and raised in Toronto, Ontario. She is proud to be Deaf Sri Lankan Tamil Canadian Queer. She is also a performer, an actress, and an artist. Thurga graduated with honours in Acting for Media program at George Brown College. She worked with Cahoots Theatre for the play called, "The Enchanted Loom" as my first experience as Deaf Interpreter in November 2016 and Red Dress Production for the community play called, "Drift Seeds" in May/June 2017. Recently in July/August 2018, I worked with Leslie Ting, a violinist to be an ASL performer for Speculation, a multi-disciplinary performance. I am working to make a difference for many Deaf youth from over the world to be an artist and remind them to go ahead with their dream by make it more accessible for them to succeed in the theatre production and film industry! I am supporting #DeafTalent all the way!
--
Thurga Kanagasekarampillai est née et a grandi à Toronto. Elle est fière d'être une personne sourde, sri-lankaise, tamoule canadienne et queer. Elle est également interprète, actrice et artiste. Thurga est diplômée du programme Acting for Media au George Brown College. Elle a travaillé avec Cahoots Theatre pour la pièce intitulée "The Enchanted Loom" comme première expérience en tant qu'interprète sourde en novembre 2016 et Red Dress Production pour la pièce de théâtre communautaire intitulée "Drift Seeds" en mai / juin 2017. Récemment, en juillet / août 2018, elle a travaillé avec Leslie Ting, violoniste, pour être interprète ASL pourle projet Speculation, une performance multidisciplinaire. Elle travaille pour faire une différence pour de nombreux jeunes Sourds du monde entier en tant qu'artiste et leur rappeler de réaliser leur rêve en le rendant plus accessible, afin qu'ils réussissent dans la production théâtrale et l'industrie cinématographique ! Elle soutient #DeafTalent jusqu'au bout!

Maxime D.-Pomerleau is a Montreal-based actress and contemporary dancer, working as an independent artist, and for the inclusive dance company Corpuscule Danse since 2014. She worked with artists in Canada, France, Germany and Mexico. Front figure of the 50th season of the institutional theatre Centre du Théâtre d'Aujourd'hui in 2018-2019, she performed there in March 2019 in the feminist play Guérilla de l'ordinaire, a production of Théâtre de l'Affamée. Since her breakthrough in the media and culture industry with her character in short film Batwheel in 2013, she performed in successful projects such as sensitive short film Take Me from directors Anaïs Barbeau-Lavalette and André Turpin, the TV series comedy FUBAR Age of Computer from director Michael Dowse, and dance and music videos. She's currently working on her first documentary projects. Maxime is frequently invited on panels on the topic of diversity in the cultural milieu, and collaborated with the Conseil québécois du théâtre, Diversité artistique Montréal, Forum RIDM, MainFilm, Studio 303 in Montreal and Modern Times Theatre in Toronto, amongst others. She's an advocate for access to culture for all.
--
Maxime D.-Pomerleau est une actrice et danseuse contemporaine basée à Montréal, travaillant comme artiste indépendante et pour la compagnie inclusive Corpuscule Danse depuis 2014. Elle a travaillé avec des artistes au Canada, en France, en Allemagne et au Mexique. Figure de proue de la 50e saison du théâtre institutionnel Centre du Théâtre d'Aujourd'hui en 2018-2019, elle s'y produit en mars 2019 dans la pièce féministe « Guérilla de l'ordinaire », une production du Théâtre de l'Affamée. Depuis sa percée dans l'industrie des médias et de la culture avec son personnage dans le court métrage Batwheel en 2013, elle s'est produite dans des projets à succès tels que le court-métrage sensible Take Me, réalisé Anaïs Barbeau-Lavalette et André Turpin, la série télévisée comique FUBAR Age of Computer du réalisateur Michael Dowse, et des vidéos de danse et de musique.
Elle travaille actuellement sur ses premiers projets documentaires. Maxime est fréquemment invitée à participer à des panels sur le thème de la diversité dans le milieu culturel et a collaboré avec le Conseil québécois du théâtre, Diversité Artistique Montréal, le Forum RIDM, MainFilm, le Studio 303 à Montréal et le Modern Times Theatre à Toronto, entre autres. Elle défend l'accès à la culture pour tous.

Terreane Derrick is a member of the Gitxsan nation, and is also of German descent. Serving as a film screener, a volunteer floater, and jury selector for Vancouver international Film Festival Women in Film, TV Vancouver BC, since 2014.
After surviving a traumatic auto accident, Terreane took a long break from filmmaking. Her film 'Hurry Up, You Stupid Cripple,' co-directed by Elle-Máijá Tailfeathers, is Terreane's return to filmmaking and chronicles her resilience and often humourous take on living with disability and trauma.
Terreane has been involved in the performing arts (puppetry) and media arts since she was 12-years old. Terreane's current projects include stream-of-conscientious writing, sketching, acrylic painting, while continuing her analysis of film. Her long time interest in health and wellness has been a guiding beacon for her personal and professional life and she employs it when working with members of the greater community.
---
Terreane Derrick est membre de la nation Gitxsan et est également d'origine allemande. À titre de cinéaste, de flotteur bénévole et de sélecteur de jury pour le Festival international du film de Vancouver Women in Film, TV Vancouver BC, depuis 2014.
Après avoir survécu à un accident de voiture traumatique, Terreane a pris une longue pause dans le cinéma. Son film «Hurry Up, You Stupid Cripple», co-réalisé par Elle-Máijá Tailfeathers, est le retour de Terreane au cinéma et raconte sa résilience et sa vision souvent humoristique de la vie avec un handicap et un traumatisme.
Terreane est impliquée dans les arts de la scène (marionnettes) et les arts médiatiques depuis l'âge de 12 ans. Les projets actuels de Terreane incluent l'écriture, le croquis, la peinture acrylique, tout en poursuivant son analyse du film. Son intérêt de longue date pour la santé et le bien-être a été un phare pour sa vie personnelle et professionnelle et elle l'emploie lorsqu'elle travaille avec des membres de la grande communauté.
Holly Elissa (Van Helsing, CW's Arrow) is an Autistic polymath: actor, filmmaker, artist, and NGO founder with Asperger's. With a career spanning over two decades. she is an acting veteran in 'Hollywood North.' Her extensive film and television credits include critically acclaimed and award-winning productions from MGM, CTV, Fox, Warner Bros, NBC Universal, The CW, and ABC. As an interdisciplinary artist - photo essayist, visual artist, writer and filmmaker - Elissa is motivated to tell stories that explore cross-cultural understanding and human rights through innovative yet accessible work. Her work in Africa and the Middle East contributes to her point of view, specifically the danger of white saviorism and a single story narrative. Learn more about her work at mylifeon.earth.
--
Holly Elissa (Van Helsing, CW's Arrow) est un polymathe autiste (Asperger): actrice, cinéaste, artiste et fondatrice d'une ONG . Avec une carrière de deux décennies, elle est une actrice chevronnée dans «Hollywood North». Ses nombreux crédits cinématographiques et télévisuels comprennent des productions acclamées par la critique et primées de MGM, CTV, Fox, Warner Bros, NBC Universal, The CW et ABC.
En tant qu'artiste interdisciplinaire – photographe, artiste visuelle, écrivaine et cinéaste - Holly aime raconter des histoires qui explorent la compréhension interculturelle et les droits de l'homme. Son travail se veut innovant et accessible, comme en témoigne ses recherches au Moyen Orient et Afrique du Sud à travers un travail innovant mais accessible à travers lequel elle exprime son point de vue sur le danger du « syndrôme du sauveur blanc » et des récits racontés avec un seul point de vue. . En savoir plus sur son travail sur mylifeon.earth.
AMI TV
Operating three broadcast services, AMI-tv and AMI-audio in English and AMI-télé in French, AMI's vision is to establish and support a voice for Canadians with disabilities, representing their interests, concerns and values through accessible media, refection and portrayal. The AMI-tv App provides yet another means of consuming AMI-tv original content. Consumers can watch or download AMI-tv content on the go or from the comfort of their home. AMI's broadcast services are included as part of the basic digital package from most television providers across Canada at no additional cost. For more information please visit AMI.ca.
AMI Scholarship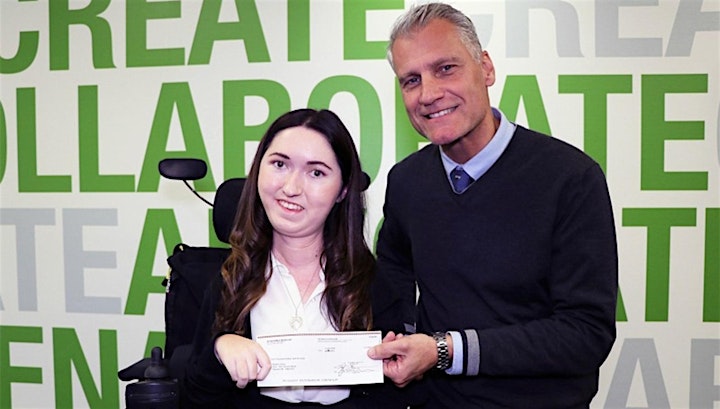 The AMI Robert Pearson Memorial Scholarship program is open to Canadian citizens or permanent residents of Canada with a permanent disability who are currently registered in and returning to a full-time program of study at an accredited Canadian post-secondary college or university.
AMI is honoured to support higher education across the country through this initiative.
AMI Careers, Paid Interships, and Paid Apprenticeships
AMI focuses on attracting, developing, and retaining our talent, in addition to creating an engaged and inclusive culture. Our employees are located across Canada, providing a unique and region-specific perspective to AMI's content. Through AMI's competitive compensation packages, commitment to diversity and inclusion, and engagement initiatives, we reinforce our commitment to work-life balance for all of our employees.
In addition to full or part-time employment openings, we offer paid internships, apprenticeships, and work placements for persons with disabilities throughout the year.
Independent Producers
AMI is accepting new program proposals for AMI-tv. Do you have an idea you think AMI would be interested in? We would love to hear from you.
AMI Research Panel
AMI's Research Panel serves as an ongoing feedback mechanism between AMI and the community. Canadians who are blind or partially sighted are invited to join and share insights and opinions on accessible technology, TV programming, media consumption and more through focus groups, online questionnaires and telephone surveys. Join the AMI research panel today and help shape the future of accessible media.
To register for the AMI Research Panel please visit AMI.ca/Research-Panel or call Toll-free 1-855-839-4772.
WIFT Canada Coalition is a group of autonomous WIFT chapters across Canada - WIFT Atlantic, FCTMN Quebec, WIFT Toronto, WIFT Alberta and WIFT Vancouver – and Women in View.
We are grateful to the CMF whose support has made these webinars possible.