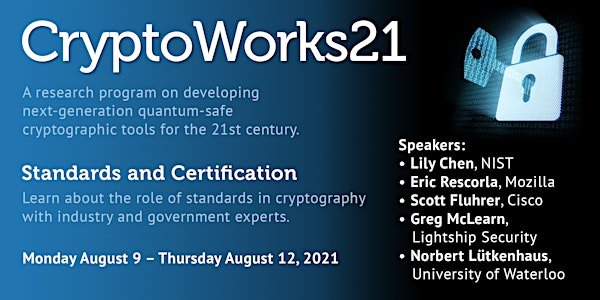 CryptoWorks21 Workshop - Standards and Certification
Workshop on Standards and Certification
By CryptoWorks 21, University of Waterloo
Date and time
August 9, 2021 · 9:30am - August 12, 2021 · 12pm PDT
About this event
Learn about the role of standards in cryptography, including their relevance and importance for deployability, competitiveness, large-scale adoption, the standards and compliance organizations, and compliance development.
Instructors:
Lily Chen, United States National Institute of Standards and Technology (NIST)
Eric Rescorla, Mozilla
Scott Fluhrer, Cisco
Greg McLearn, Lightship Security
Norbert Lütkenhaus, University of Waterloo
The workshop will consist of lectures delivered over Zoom. Tentative schedule:
Monday, August 9, 2021: 12:30-3pm, US Eastern time (Intro; Chen)
Tuesday, August 10, 2021: 1-3pm, US Eastern time (Rescorla; Fluhrer)
Wednesday, August 11, 2021: 1-3pm, US Eastern time (McLearn)
Thursday, August 12, 2021: 12:30-3pm, US Eastern time (Lütkenhaus; panel)
Speakers will include government and industry experts on standardization in cryptography and information security. Lily Chen, leader of NIST's Cryptographic Technology group which runs the NIST post-quantum crypto standardization project, will give an overview of standardization, certification, and validation of cryptographic technologies. Eric Rescorla, CTO for Firefox at Mozilla, will talk about trends in standardization of cryptography and his experiences with the IETF. Scott Fluhrer from Cisco will give an industry perspective on FIPS. Greg McLearn, Founder and Technical Director of Lightship Security will talk about Common Criteria and FIPS certification and validation. Norbert Lütkenhaus from the University of Waterloo's Institute for Quantum Computing will talk about progress towards standardizing quantum key distribution.
This workshop is part of the CryptoWorks21 program at the University of Waterloo, but is open to graduate students, post-docs, and industry researchers.
Learn more about CryptoWorks21 at https://cryptoworks21.uwaterloo.ca.