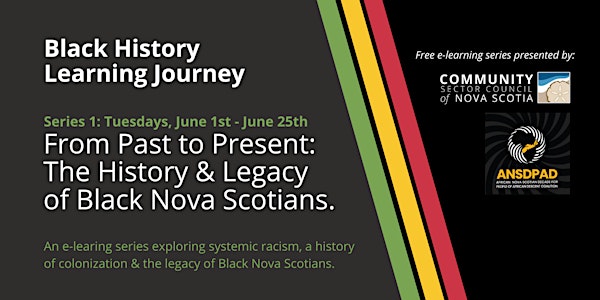 CSCNS Black History Learning Journey: Series 1
Join us for an e-learning series exploring systemic racism, a history of colonization & the legacy of Black Nova Scotians.
About this event
Black History Learning Journey - Series 1
This year, the Nova Scotia Legislation officially designated August 1st as Emancipation Day in recognition of the history and impacts of slavery in the province. Following the Decolonization Learning Journey (hosted in partnership with Unama'ki College), the Black History Learning Journey is a further exploration of systemic racism and the shared history of colonization. As part of our continued learnings and action, the goal is to continue to increase individual and organizational participation in shared educational spaces, create meaningful dialogue, mobilize the sector, and provide tangible ways to combat anti-Black racism.
To help lead the conversation, the Community Sector Council of Nova Scotia (CSCNS) and the African Nova Scotia Decade of People of African Descent Coalition (ANS DPAD Coalition) have designed an engaging series to increase awareness about the Black Nova Scotian/ Canadian experience. The Black History Learning Journey will explore some of the key aspects of anti-Black racism, provide a history of African Nova Scotians, and discuss the impact on the Black experience in Nova Scotia today.
By examining the past to the present and challenging ourselves to have meaningful, honest conversations - we can lead a more inclusive future. For there to be transformative change, we must all listen, learn, share and act.

This June, the first series will begin our learning journey with a comprehensive history of people of African Descent in Nova Scotia. For over 400 years, African Nova Scotians have been in this province and have helped shape the cultural mosaic of Nova Scotia and Canada. This series will examine:
Slavery in the province;
The landing of the Black Loyalists and their connection with Mi'kmaw people;
The Shelburne race riot, the first recorded race riot in North America;
Black Nova Scotians contributing to and building many iconic Nova Scotian landmarks like Citadel Hill, Halifax City Hall, and the Fortress of Louisburg;
Segregation and early anti-Black policies and laws;
Broken promises, resistance, displacement and mass migration; and
The long-lasting effects of generational trauma
The series will conclude with a suite of facilitators discussing how we continue to see the impacts of systemic anti-Black racism today on health, education, housing, employment, and social services. Join us for what is sure to be an insightful series exploring the history and legacy of Black Nova Scotians, and using the past to inform the future.
Series 1 Schedule
This series is comprised of four (4) virtual sessions via Zoom Webinar scheduled for every Tuesday beginning June 1st from 1:00-3:00pm (ADT).
Session 1: Tuesday, June 1st: Decolonization: A Shared History
Session 2: Tuesday, June 8th: Enslaved Black People: First Landing
Session 3: Tuesday, June 15th: "Free" Black People
Session 4: Tuesday, June 22nd: The Legacy of Slavery
NOTE: All sessions are being recorded and the recordings will be available on our website (here) within one week of each session.
HOW TO REGISTER
To register for these sessions:
Click "Register"
Select the ticket(s) for each session that you want to attend then select "Register"
Fill out the registration form.
You will receive a confirmation email with the meeting details once you complete your registration.