Description
CTFF and Pride presents a night of filmic exploration of the BIPOC trans experience. With short films illuminating trans lives and the after-effects of the Pulse nightclub murders, followed by the phenomenal 'Saturday Church' - what may be the first big-budget trans coming-of-age musical you've ever seen. Join us as we share stories, share space and come together as a community to support those of us on the fringe.
*EARLY BIRD Ticket Sales End August 20th!
Featured Screening:
SATURDAY CHURCH directed by Damon Cardasis
Runtime: 01:26:31 min [ watch trailer ]
Ulysses is a shy and effeminate boy who finds himself coping with new responsibilities as man of the house after the death of his father. Living alongside his mother, younger brother, and conservative aunt, Ulysses is also struggling with questions about his gender identity. He finds an escape by creating a world of fantasy filled with dance and music. Ulysses' journey takes a turn for the better when he finds a vibrant transgender community.
Featured Short Films:

PASSING directed by Lucah Rosenberg-Lee, J. Mitchel Reed
Runtime: 21 min [ watch trailer ]
Three men of color have undergone gender transition from female to male. The film explores what life is like living as a black man, when no one knows you are transgender and how each of them perceives their own journey with gender after many years of being interacted with by the world as a biological man.
ANOCHE directed by Irvin Castro, Nico Fernández
Runtime: 15 min [ watch trailer ]
A short film exploring the effect of the mass shooting at Pulse Nightclub in 2016
Posters: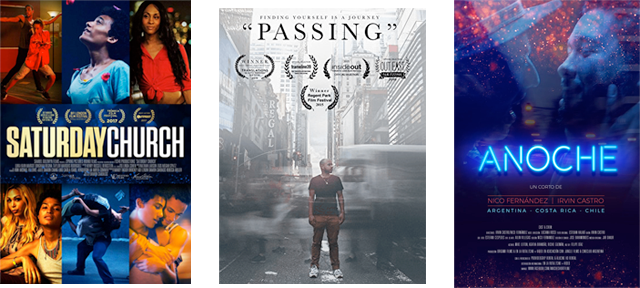 Organizer of CTFF2018 - RISE UP: Queer & Here
CaribbeanTales is a registered Canadian charity (no. 87896 4618 RR0001) that creates, markets and distributes educational programs and products intended to promote racial equality in Canada and abroad.
Our mandate is to foster and encourage intercultural understanding and citizen participation through the creation and distribution of educational films, videos, theatre as well as new media programs, products and resource materials that reflect the diversity and creativity of Caribbean-Canadian heritage culture.
Black Films Matter.