Description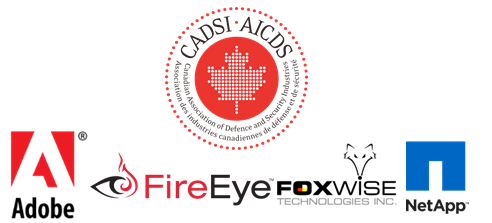 #CyberForum613 registration now open! Join us in Ottawa on February 7th 2017 for our Cybersecurity in Defence Procurement Forum
Registration is now open for #CyberForum613, a Cybersecurity in Defence Procurement Forum organised by Invest Ottawa, the Federal Economic Development Agency for Southern Ontario (FedDev Ontario), the Ontario Ministry of Economic Development and Growth (MEDG) and The Capital Hill Group. The event will take place Feb 7th, 2017 at the new Innovation Centre at Bayview Yards in Ottawa, Ontario. (7 Bayview Road)
#CyberForum613 will feature panels, speeches, and breakout sessions and B2Bs showcasing some of the top minds and influencers in Canadian Cybersecurity and the Defence industry. Network opportunities will be encouraged with the B2B sessions to be held in the afternoon.
If your organization is involved in the Cybersecurity field, the Defence industry or in the Government organizations focused on these two critical areas, this will be an event you don't want to miss!
For more information, please contact William Norman at Capital Hill Group (wnorman@capitalhill.ca) or Jen Leng at FedDev Ontario (jennifer.leng@canada.ca)
L'inscription au #CyberForum613 est maintenant ouverte! Le 7 février 2017 à Ottawa, joignez-vous à notre forum de cybersécurité dans les approvisionnements en défense
L'enregistrement est maintenant ouvert pour le #CyberForum613, un forum sur la cybersécurité dans les approvisionnements en défense organisé par Investir Ottawa, l'Agence fédérale de développement économique pour le Sud de l'Ontario (FedDev Ontario), le Ministère du développement économique et de la croissance de l'Ontario (MDEC), et le Groupe Capital Hill. L'événement aura lieu le 7 février 2017 au Centre d'innovation des Cours Bayview à Ottawa (Ontario). L'adresse est le 7 chemin Bayview.
#CyberForum613 présente une offre variée de panels, discours, groupes de discussion et opportunités d'échanges entre entreprises (« B2Bs »), tous menés par certains des principaux acteurs canadiens en cybersécurité et en défense. Les opportunités de réseautage seront encouragées, avec des rencontres de format « B2B » en après-midi.
Si votre organisation œuvre dans les domaines de la cybersécurité ou de la défense, ou si vous faites partie d'une agence publique qui s'intéresse à ces domaines, vous ne voudrez pas rater cet événement!
Pour plus d'information, veuillez contacter William Norman du Groupe Capital Hill (wnorman@capitalhill.ca) ou Jen Leng de FedDev Ontario (jennifer.leng@canada.ca).
DRAFT AGENDA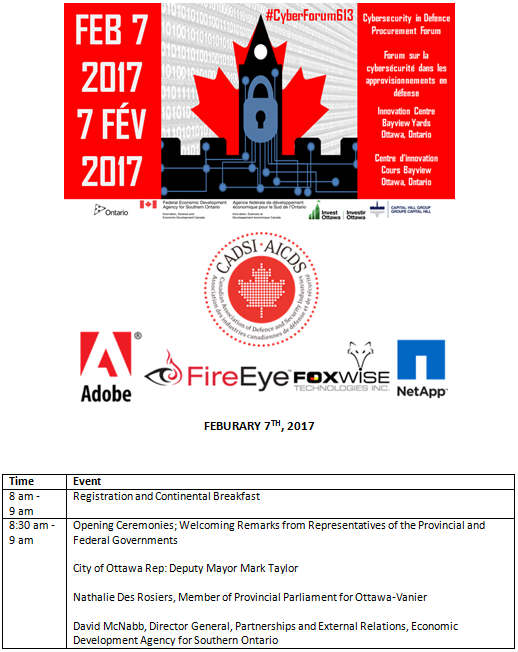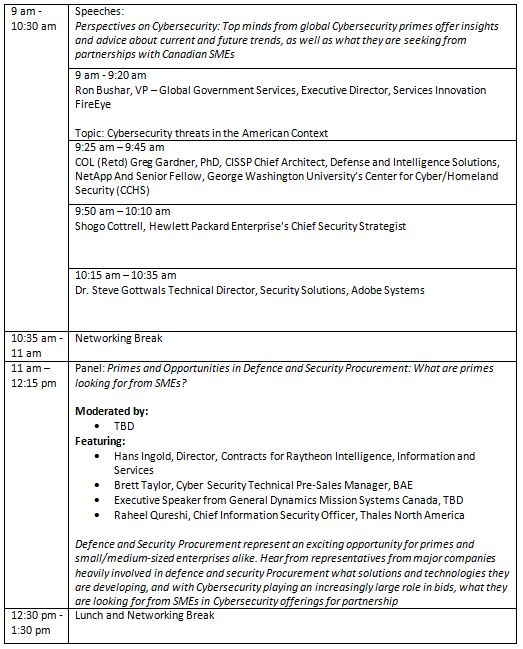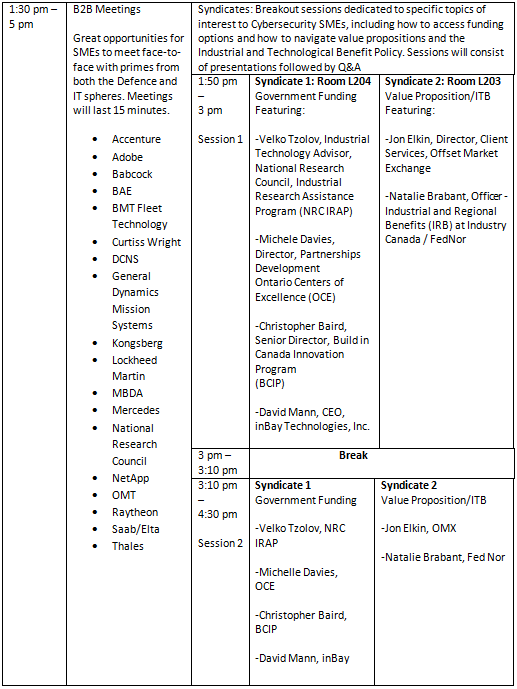 GOVERNMENT RATE FOR LORD ELGIN HOTEL
Joining us in Ottawa from out of town? We are pleased that the historic Lord Elgin hotel in downtown Ottawa is offering a special government rate that can be exclusively accessed here.
You can find additional information from the Lord Elgin directly at 1-800-267-4298 or email: reservations@lordelgin.ca.
You can view more hotel information here.
GETTING TO THE INNOVATION CENTRE
PLEASE NOTE THAT ON-SITE PARKING WILL BE LIMITED, TAKING TRANSIT/TAXI IS RECOMMENEDED
Limited parking will be available on-site at the Innovation Centre, but to better serve you we have arranged for a taxi stand on Feb 7th, and we highly encourage you to take advantage of this. A taxi cab to the Innovation Centre at 7 Bayview Road from downtown Ottawa is usually less than 10 minutes. Additionally, busses run regularly and stop and both Bayview Station and the Albert/Bayview stop, with just a short walk up Bayview Road to the Innovation Centre.
February 7th is fast approaching! Don't miss out on insightful speeches, informative panel discussions, and great opportunities for business-to-business and networking meetings.
#CyberForum613 – Nouvelles et offre spéciales pour l'hébergement et le transport
RAPPEL: INSCRIVEZ-VOUS AU #CYBERFORUM613 ICI!
Le Groupe Capital Hill, en partenariat avec le Ministère du développement économique et de la croissance de l'Ontario, l'Agence fédérale de développement économique pour le Sud de l'Ontario et Investir Ottawa, sont heureux de vous faire parvenir cette mise à jour. Vous y trouverez des détails importants sur l'hébergement et le transport.
TARIF GOUVERNEMENTAL AU LORD ELGIN
Vous nous visitez de l'extérieur d'Ottawa? Il nous fait plaisir d'annoncer que l'hôtel Lord Elgin vous offre un tarif gouvernemental auquel vous pourrez accéder ici.
Vous pouvez obtenir de l'information supplémentaire directement du Lord Elgin au 1-800-267-4298 ou par courriel: reservations@lordelgin.ca.
Vous pouvez aussi accéder à plus d'information sur d'autres hôtels ici.
SE RENDRE AU CENTRE D'INNOVATION
VEUILLEZ NOTER QUE LE STATIONNEMENT SUR PLACE EST LIMITÉ; L'UTILISATION DU TRANSPORT EN COMMUN OU DES TAXIS EST RECOMMANDÉE
Le stationnement sur place étant limité au Centre d'innovation, nous avons organisé la mise en place d'un arrêt de taxi temporaire le 7 février, et nous vous encourageons fortement à en profiter. Une course de taxi depuis le centre-ville d'Ottawa jusqu'au Centre d'innovation au 7 chemin Bayview prends habituellement moins de 10 minutes. Quant à eux, les autobus passent régulièrement et s'arrêtent à la station Bayview et à l'arrêt Albert/Bayview. Ensuite, vous n'aurez qu'une courte marche pour vous rendre au Centre d'innovation.
Le 7 février approche à grand pas! Ne ratez pas des discours perspicaces, des panels informatifs et des opportunités de rencontres d'affaires et de réseautage.