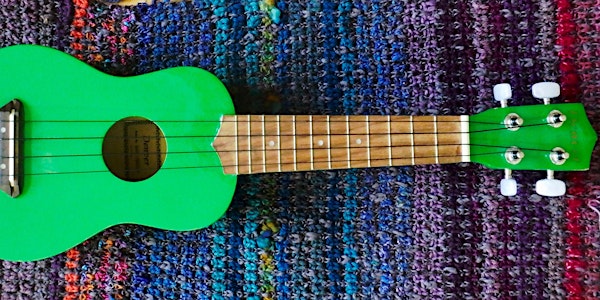 Cyberlele Orchestra Weekend
An Online Ukulele Ensemble Workshop
Refund Policy
Contact the organizer to request a refund.
Eventbrite's fee is nonrefundable.
About this event
Join us for a fun and exciting weekend of ukulele ensemble! In this intensive workshop we will learn material arranged in parts for several levels of ukulele. We will be working from sheet music and tablature. Material will suit players at skill levels from confident beginners to those with advanced skills (you should know and be comfortable with basic chords in order to participate). Group and sectional classes will help us explore repertoire, expand skills and work towards creating a virtual performance. Hosted by Eve Goldberg and Brenna MacCrimmon with guest instructor Chantal LeBlanc.
Registration fee of $160 CAD includes
2 days of instructional programming
3 levels of ukulele
3 teachers
a Friday concert
a Saturday campfire
technical support and trouble shooting throughout the workshop
digital access to class materials
opportunity to participate in a virtual performance.
Please note: Cynthia Kinnunen, who was originally going to join, has had to cancel due to an injury. We wish her good health and a speedy recovery.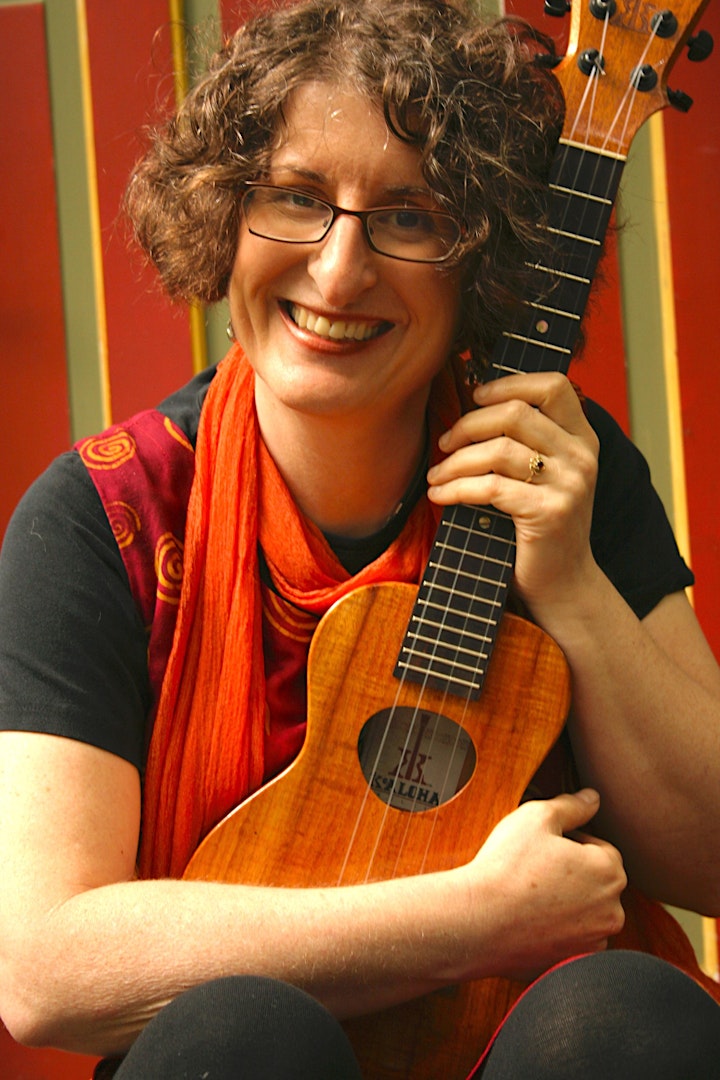 Eve Goldberg
Eve Goldberg sings music that draws honey from the rock of life. A compelling writer and interpreter, Eve's watercolour voice and solid instrumental style has made her a favourite with audiences across Canada and the US. Her performances on guitar and ukulele are intimate and relaxed, moving effortlessly from folk classics to original gems. Since 1990, she has performed her trademark mixture of folk, blues, country, bluegrass, old time, and jazz in venues across Canada and the US, ranging from small house concerts to the prestigious Kennedy Center in Washington DC. Along the way she's earned the respect of legendary musicians like Peggy Seeger, Geoff Muldaur, and Penny Lang. She has released three CDs and is currently a member of the folk/roots duo Gathering Sparks.
When she is not performing, Eve specializes in teaching music to adults in community settings. She especially enjoys teaching beginners and strives to create a supportive environment that encourages students at any skill level to learn and grow.
Eve currently leads the Parkdale Ukulele Group and the Ukulele Orchestra of Toronto (Ukes of T). For over twenty years she organized The Woods Music and Dance Camp, an adult folk music retreat in Ontario. She has performed and taught music classes at the James Hill Ukulele Institute (Vancouver, BC and Toronto, ON), Port Townsend Ukulele Festival (Port Townsend, WA), Midwest Ukulele and Harmonica Camp (Olivet, MI), Dock Street Ukulele Camp (Shelburne, NS), Haliburton School of Art and Design (Haliburton, ON), Winter Folk Camp (Haliburton, ON), Blue Skies Adult Music Camp (Kingston, ON) and the Midland Uke Fest (Midland, ON), and is in demand as a workshop leader and performer at ukulele events near and far.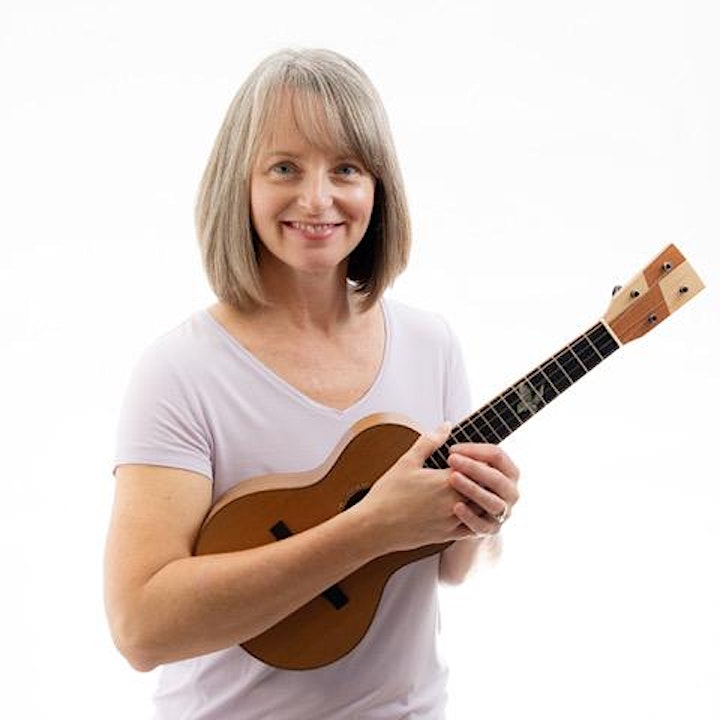 Chantal LeBlanc
From an early age Chantal has felt passionate about music and believes in its capacity to nurture the full development of all children. As a parent of young music students and an adult learner she discovered that all human beings, no matter how young or old, have the potential to learn and enjoy making music. Chantal studied piano as a child and into her teens and then classical guitar as an adult student before discovering the ukulele.
Following meeting James Hill at a school workshop in 2010, Chantal proceeded to complete all 3 levels of the James Hill Ukulele Initiative's Teacher Certification Program and began teaching music using the Ukulele in the Classroom method in several schools in the OCDSB's Extra-Curricular Creative Arts program as well as in their General Interest evening program. In the summer of 2014, she was invited to serve as an instructor at the JHUI Teacher Certification institute in Toronto. She also taught the ukulele as an enrichment program to Suzuki music students and parents at The National Capital Suzuki School of Music.
Since relocating to Toronto in the summer of 2016, Chantal has mainly served as the social media coordinator for the James Hill Music team as well as for the Toronto Ukulele Orchestra, under the direction of Eve Goldberg. She continues to enjoy learning, arranging and playing all styles of music on the ukulele.
Chantal est Franco-ontarienne et peut ainsi offrir services et instruction en français.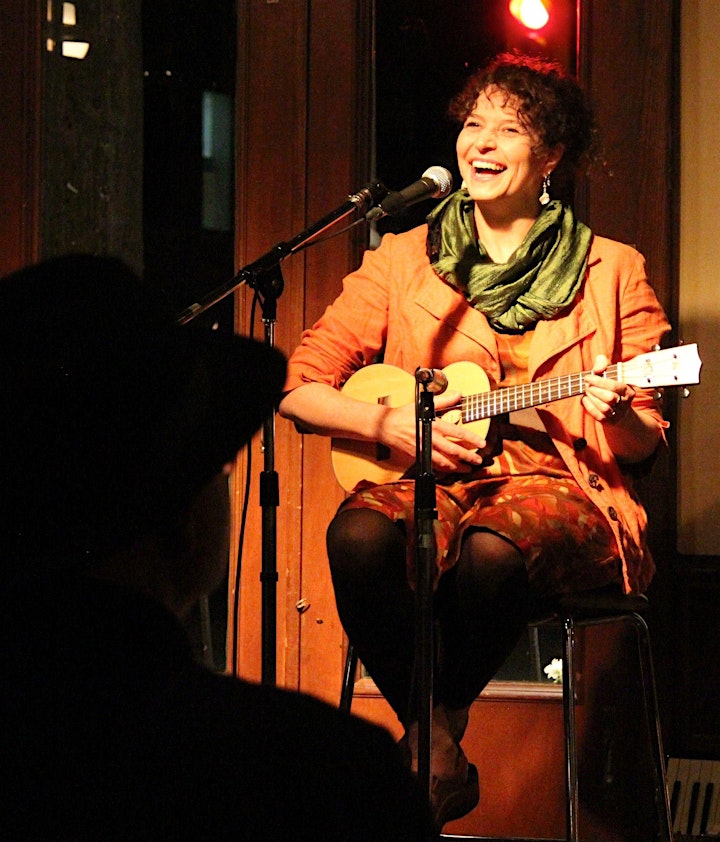 Brenna MacCrimmon
Brenna has been exploring, learning and performing the music of Turkey and the Balkans since a chance encounter with some vinyl records in her local public library in early 1980's. This curiosity has taken her far and wide, from recording with master musician Selim Sesler in Turkey to taking the stage with psychedelic art rock band Baba Zula, to performing with traditional dance bands like Edessa and Raya Brass Band in the US and Balkan music with Ayde Mori. Many of her interpretations of Turkish folk songs have inspired younger generations of musicians to delve into the repertoire of their ancestors. She has been involved in award winning theatre productions, sung on film soundtracks, and since the 1990's has been teaching traditional Balkan and Turkish folksongs at workshops in the US, Canada, Europe and Japan.
Her interest in ukulele also was sparked in a library. While sorting and cataloging old sheet music from the 1920's she was intrigued by the banners proclaiming "ukulele accompaniment" on the front of the scores. She shortly thereafter procured her first uke - a tenor - and worked out a few chords so she could strum out a couple of old tunes from yesteryear. Attending uke jams to improve her skills (and get over stage fright!) she also started to adapt Turkish folksongs for the uke. She has attended JHUI training classes and with Eve Goldberg has been teaching ukulele for adults at Haliburton School of Art and Design and teaches children privately in her home studio where she also hosts occasional ukulele jams.
Residing in Toronto, she sometimes sings early jazz and blues with Bill Westcott, sometimes co-hosts a ukulele gathering called the Wang Dang Doodle on Toronto Island, and performs with Juno-nominated vocal ensemble Turkwaz.

Schedule Highlights
Friday show: An evening concert featuring each of your teachers performing for you.
Saturday and Sunday classes: Starting at 9:00 am each morning, we'll slowly gather and check in and be ready to start playing at 9:30. We'll balance the day between group sessions where all work together and sectional sessions where we focus on our specific parts . There will be breaks throughout the day as well as a relaxed lunch period where hanging out digitally is possible. We'll end each day of classes no later than 4:30.
Saturday night campfire: Show up, strum along to popular songs (chords provided) and if you feel up it, maybe do an open mic spot.
Skill Level Recommendations
Beginners should know how to tune their ukulele and be able to play simple melodies and basic chords without difficulty.
We will be working from standard music notation and will provide tablature as well.
Ability to read music is an asset, but not required. We will help you determine what level to join based on a questionnaire we'll send you upon registration.
THIS IS NOT FOR ABSOLUTE BEGINNERS.
Technical Requirements
Computer or device that connects to the internet. If you can't connect directly via an ethernet cable, it helps to be close to your router.
Zoom app. Download it for free here
Headphones or ear buds.
Ukulele (C6 tuning) in good working order. Low G string recommend but not required.
F.A.Q.s
Q: Do I have to buy course materials?
A: Once you've registered we will provide a link where you can download the sheet music and in some cases, guide recordings as well.
Q: Do I have to print all that?
A: Probably not. We'll let you know what is key for you for the weekend.
Q:How do I figure out what part I should play?
A: We'll send you a questionnaire once you've registered. It will help you get in the right section for the weekend.
Q: Darn it. I signed up and now I can't make it. What's your refund policy?
A: If for any reason you need to cancel your registration, we can process a full refund, less an administration fee of $30, up until August 14. After August 14, we can refund 50% of your registration fee. Please contact us to work out your refund.
More Questions? Ask Us!
Answers coming very soon.
Virtual Performance
Our goal is to fine tune our playing so we can create a video like these performed by Eve Goldberg's Ukulele Orchestra of Toronto. We will do the recording of the parts AFTER the weekend workshop.