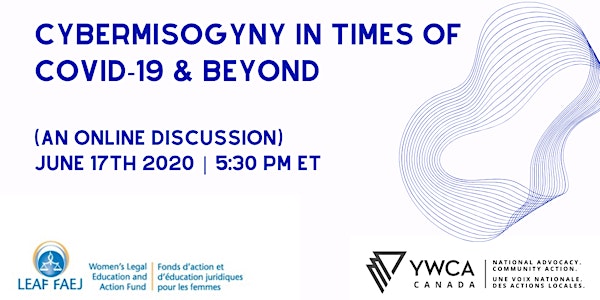 Cybermisogyny in Times of COVID-19 and Beyond
YWCA Canada and LEAF are hosting an event on cybermisogyny in times of COVID-19 and beyond!
About this event
Trigger Warning: This session will include discussions of sexual harassment and sexual violence.
Freedom from violence and hate is a prerequisite condition for exercising our constitutionally guaranteed equality rights. As we become increasingly reliant on digital spaces to connect with others during the pandemic, there is an increased need to ensure that our digital space remains free and safe from misogyny.
This panel will explore how the COVID-19 pandemic has exacerbated the reach and harms of cybermisogyny from a lived experience perspective. The panelists will explore questions such as:
How have physical distancing measures during the pandemic heightened the existing root causes of cybermisogyny?
How are online platforms regulated? What are the gaps in how online platforms are regulated, from a women's equality standpoint?
What does an equitable digital space look like and how can we work toward it?
Moderator: Rosel Kim - Staff Lawyer, LEAF
Panelists
Hadiya Roderique - Board Member, LEAF
Rebecca Pacheco - Projects & Communication Coordinator, YWCA Canada
Suzie Dunn, PhD Candidate at the University of Ottawa