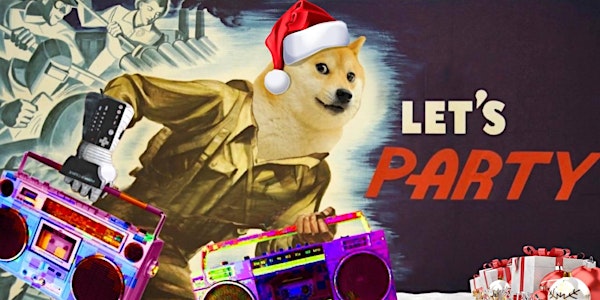 Multiple dates
Decentralized Dance Party!
Decentralized Dance Party - Christmas Eve!
By Decentralized Dance Party
Date and time
April 18, 2020 · 5pm - September 21 · 9pm PDT
About this event
The Decentralized Dance Party is an Open-Source Party Movement on a mission to unite the world in Celebration and win the Nobel Peace Prize for Partying.
JOIN US!
From wherever you are for a global Mixed-Reality Party to celebrate the 108th anniversary of one of the most magnificent moments in Party history - the Christmas Truce of 1914!
VIRTUAL PARTY STRATEGY GUIDE:
To maximize your virtual Party experience, CLICK HERE
THE DREAM
Our ultimate dream is to create a Party Metaverse. A new "Party Layer" that will sit atop reality, allowing anyone, anywhere to instantly step into a parallel dimension alive with sound, light and positive vibes.
We believe that a gigantic international game, inspired and empowered by the Doge is the best possible way to unify humanity and Wage Peace on a global scale. This is merely the beginning... of the Beginning :)
TO LEARN MORE AND GET INVOLVED,
About the organizer
The Decentralized Dance Party is an Open-Source Party Movement on a mission to unite the world in Celebration and win the Nobel Peace Prize for Partying. Join the Party: TheDDP.com