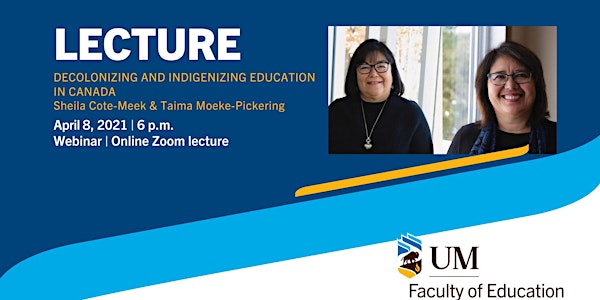 Decolonizing and Indigenizing Education in Canada
Dean's Distinguished Lecture Series 3: Sheila Cote-Meek & Taima Moeke-Pickering on Decolonizing and Indigenizing Education in Canada
About this event
The work of Dr. Sheila Cote-Meek and Dr. Taima Moeke-Pickering explores the complexities of decolonization and indigenization of post-secondary institutions. Seeking to advance critical scholarship on issues including the place of Indigenous epistemologies, knowledges, curriculum, and pedagogy, Decolonizing and Indigenizing Education in Canada aims to build space in the academy for Indigenous peoples and resistance and reconciliation. Their work is built around the two connecting themes of Indigenous epistemologies and decolonizing post-secondary institutions. Aiming to advance and transform the Canadian academy, the professors discuss strategies for shifting power dynamics and Eurocentric perspectives within higher education.
Bios
Sheila Cote-Meek, PhD, is Anishinaabe from the Teme-Augama Anishnabai and is the vice-president, Equity, People and Culture at York University. She is the former associate vice-president, Academic and Indigenous programs at Laurentian University. A leader in Indigenous education, Dr. Cote-Meek has focused on bringing about systemic changes that attend to equity, diversity, and inclusion in post-secondary education.
Taima Moeke-Pickering, PhD, is a Maori of the Ngati Pukeko and Tuhoe tribes. She is a full professor in the School of Indigenous Relations at Laurentian University where she teaches courses on Indigenous research methodologies, international Indigenous issues, and United Nations and Indigenous social work. She has extensive experience working with international Indigenous communities, evaluative research, big data analysis, #MMIW and photovoice methodologies. She is co-editor of the book Decolonizing & Indigenizing Education in Canada (2020) and lead editor for the book Critical Reflections and Politics for Advancing Women in the Academy (2020).