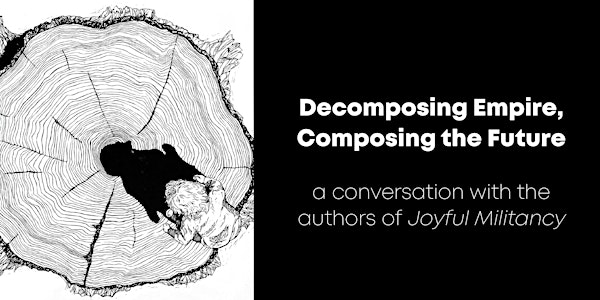 Decomposing Empire, Composing the Future: w/ authors of Joyful Militancy
Authors carla bergman and Nick Montgomery will discuss JOYFUL MILITANCY and how ideas in the book relate to issues we face collectively.
Refund Policy
Contact the organizer to request a refund.
Eventbrite's fee is nonrefundable.
About this event
Joyful Militancy authors carla bergman and Nick Montgomery are thrilled to be hosting their first livestream together! They will present some of the ideas in their book and answer your questions. They are most excited to get into conversation with all of you about the current issues we are collectively facing today. So, let's dig in and find some militant joy so we can decompose empire, together!
Reserve your ticket now, and we'll send you livestream details on the day of the event.
If you have questions you would like the authors to discuss, you can submit them ahead of time by including them in your ticket order.
About Joyful Militancy:
Why do radical movements and spaces sometimes feel laden with fear, anxiety, suspicion, self-righteousness, and competition? bergman and Montgomery call this phenomenon rigid radicalism: congealed and toxic ways of relating that have seeped into social movements, posing as the "correct" way of being radical. In conversation with organizers and intellectuals from a wide variety of political currents, the authors explore how rigid radicalism smuggles itself into radical spaces, and how it is being undone.
You can learn more and buy the book here.
An invitation to engage in Mutual Aid:
All funds raised from ticket sales will be donated to the Ma'amtagila Land Rematriation Project. The Ma'amtagila are part of the Kwakwaka'wakw from the West Coast of the territories claimed by Canada. Their traditional territory lies between Vancouver Island & the BC Mainland Coast, in the Johnstone Strait. In 2019, the Ma'amtagila and their supporters built a Little Big House at the University of Victoria, which occupies the territories of the Lekwungen and W̱SÁNEĆ peoples. The next stage is to install the Little Big House at Hiladi Village, along with a smokehouse and an outhouse. They are gathering a team to have this completed by the summer! This project is part of an assertion of Indigenous sovereignty spear-headed by Ma'amtagila matriarch Tsastilqualus Ambers Umbas, in coordination with broader Kwakwaka'wakw hereditary leadership. If you have the means, please consider supporting this project.