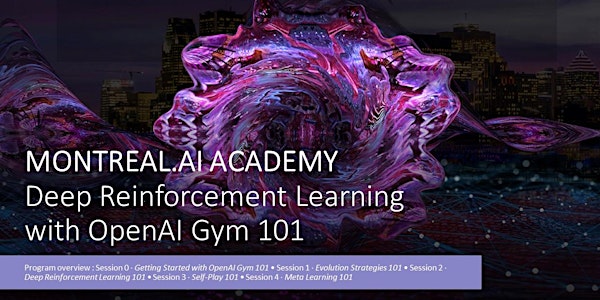 Deep Reinforcement Learning with OpenAI Gym 101
DEEP REINFORCEMENT LEARNING WITH OPENAI GYM 101
About this event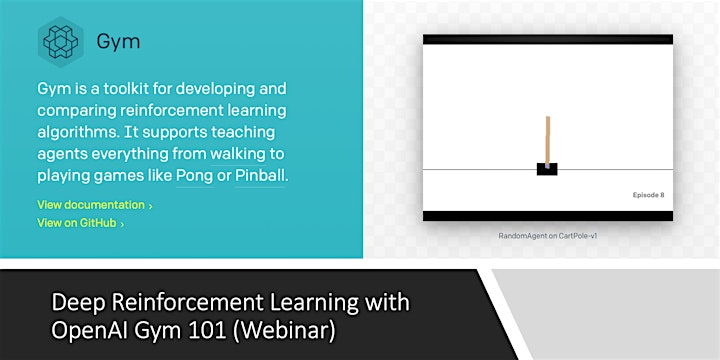 DEEP REINFORCEMENT LEARNING WITH OPENAI GYM 101
AI Agents Learning from Experience, for All
A Well-Crafted Actionable 75 Minutes Webinar
AI is capable of profoundly transforming industries and societies.
"Intelligence is the computational part of the ability to predict and control a stream of experience." — Rich Sutton
For the newcomers to deep reinforcement learning, MONTREAL.AI introduces, with authority and insider knowledge: "Deep Reinforcement Learning with OpenAI Gym 101".
Program overview
Pioneering an impactful understanding :
• Session 0 · Getting Started with OpenAI Gym 101
• Session 1 · Evolution Strategies 101
• Session 2 · Deep Reinforcement Learning 101
• Session 3 · Self-Play 101
• Session 4 · Meta Learning 101
"Intelligence measures an agent's ability to achieve goals in a wide range of environments." — Shane Legg
Keynote: Vincent Boucher
Keynote and Instructor: Vincent Boucher, President at MONTREAL.AI.
In 1996, Vincent Boucher completed a B. Sc. Theoretical Physics in 1 (one) year, followed by a Master's degree in Government Policy Analysis (1998) and a Master's degree in Aerospace Engineering (Space Technology) (2000). From 2000 to 2002, he provided management consulting services for the Canadian Space Agency.
In 2003, in order to powerfully scale AI to global industrial landscapes and to win the AI race, Vincent founded MONTREAL.AI.
* Vincent Boucher (username: ceobillionaire) ranked #1 worldwide on the OpenAI Gym : https://gym.openai.com/read-only.html
"What I cannot create, I do not understand." — Richard Feynman
General Information
Language: Tutorial (webinar) given in English.
Location: This is an online event. This is a live streamed webinar with interaction with and among students. Attendees will receive instructions on how to access the live stream just prior to the event.
* In case of force majeure, the event will be postponed to a later date.
** The content of the webinar is for your personal use and should not be shared or/and distributed.
FAQs
How can I contact the organizer with any questions?
The General Secretariat of MONTREAL.AI : secretariat@montreal.ai