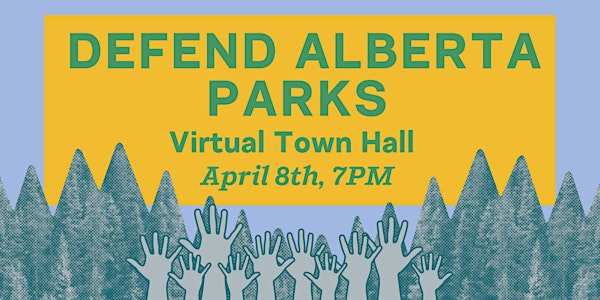 Defend Alberta Parks - Virtual Town Hall
Join us to hear from Albertans affected by the closure of and cuts to Parks.
About this event
Join us via zoom to hear from Albertans affected by these cuts. We will be joined by representatives from the conservation, recreation and youth communities. Presentations will be followed with an opportunity to hear from you! How are the cuts to parks impacting you?
As we move through our 3rd week of social distancing practices, It has become clear how important our public protected areas are to our daily lives. As of March 27th, to encourage social distancing, Alberta Parks has closed all vehicle access to Parks and Recreation areas. Not being able to easily and safely access nature has definitely made this period of social isolation difficult for many, including us!
As you may know, Alberta Parks announced the removal of 164 parks sites and the closure of 20 sites in early March. CPAWS Northern and Southern Alberta chapters have been pushing for this decision to be reversed, but protecting Alberta's parks are not possible without you!
It is so important we stand up to the cuts being made to Alberta's Parks system.
We encourage you to join us from the comfort of your home.
CPAWS' Defend Alberta Parks Town Hall: 7PM Wednesday, April 8th, 2020
Organizer of Defend Alberta Parks - Virtual Town Hall
CPAWS is Canada's voice for wilderness. Southern Alberta Chapter staff and volunteers have been champions of southern Alberta's wild places since 1967. Our goal is to provide landscape scale, science-based support and advice for the conservation and protection of Alberta's protected areas and wildlands.