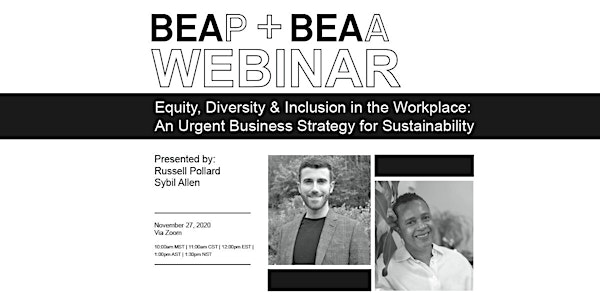 DEI in the Workplace: An Urgent Strategy for Sustainability
BEAP and BEAA Webinar DEI in the Workplace: An Urgent Strategy for Sustainability Presented by Sybil Allen and Russell Pollard
About this event
**ZOOM LINK WILL BE EMAILED TO REGISTERED ATTENDEES**
The time for this lecture is as follows:
1:00 pm Atlantic Time
12:00 pm Eastern Time
11:00 am Central Time
This will be a focused lecture led by Sybil Allen (CEO, Human Factor, Co-creator of Waking the Unconscious(WtC) ) and Russell Pollard (Principal of Framework Leadership), guided with visual support, followed by a question and answer period.
With the state of the construction industry (and of the world), this is a critical opportunity to put equity and inclusion at the centre of how we make decisions in and lead our practices. There is a new normal emerging and, as leaders, it is time to strengthen our inclusive leadership resolve and impact both in our practices and in the profession.
This focused lecture will present key learnings to help leaders of architectural practices navigate these uncertain times and make inclusive decisions toward more equitable workplaces and profession.
Context: What is the context of inclusion in profession
Framework: A reference model for organizational and systemic change, with examples of barriers
People & Culture: Considerations for establishing inclusion as a core value in and attribute of your practice, including behaviors that promote authenticity, measures and accountability
Leadership: Advice on how individuals can assert influence in their practices to be inclusive and promote inclusion
Peer Learning: Connect with industry peers to learn from each other
**THANK YOU TO THE WEBINAR SPONSORS**
Building Equality in Architecture is a not for profit, volunteer led organization. We are able to carry out quality programming due to the financial support from members of our industry.
In alphabetical order and links to websites:
Anna Lorberer