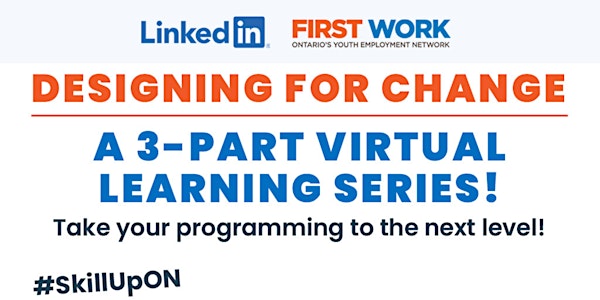 Designing for Change - Session #1-3: Full Series Registration
Registration for the full Designing for Change Virtual Learning Series - see details below for specific dates
About this event
An Interactive Learning with LinkedIn Learning, Talent Insights, and Recruiter.
We're excited to announce the Winter 2022 installment of our FREE 3-part virtual LinkedIn training series Designing for Change!
This 6-hour interactive learning series explores utilizing LinkedIn tools to enhance program design and participant engagement. This learning series is for employment service providers, career educators/counsellors, program managers/developers, and anyone designing and leading career development or skills training programs.
Program Details
Day #1: Interactive learning using LinkedIn learning. Learn how to build engaging, targeted content for your job seekers.
Date: February 2, 2022 | 9:30 to 11:30 am
Day #2: Interactive learning using LinkedIn Talent Insights and Recruiter. Learn how to create Labour Market Reports and Community Outreach/Employer Engagement.
Date: February 9, 2022 | 9:30 to 11:30 am
Day #3: Making It Work! Interactive learning exploring how to integrate all the LinkedIn tools into your programming to serve your programming needs and engage your learners.
Date: February 16, 2022, | 9:30 to 11:00 am
Participants will receive the following:
• Opportunity to participate in engaging real-time design and reflection activities about how to use LinkedIn features and digital tools for engaging job seekers and program design.
• Access to a resource library of content tools and activities to use in current programs and to enhance participant engagement.
• Post-session How-To 1:1 Sessions. We're continuing to offer our post-training How-To sessions after each Designing for Change presentation. Led by our staff experts, this is the place to clarify questions, solidify and fill in any gaps in your learning. The link to the How-To session will be shared during the live training session. You must have participated in the corresponding session to attend.
Don't miss this FREE opportunity!