Description
Welcome to DevFest!
In partnership with Zain Kuwait we are able to bring to you an amazing program the Oct 12th!
Our program includes beginner/intermediate and advance level workshops including Android dev, iOS dev, Tensorflow.js, Flutter and IoT. Our experts are working hard to bring you the best experience and knowledge in the technologies they offer so get ready for an amazing day!

Registration is per workshop. You may only apply for ONE workshop per session.
*NOTE: if you select two sessions at the same time, you will be manually removed from one of them based on available spaces).
*Contact through DM for any questions on Instagram: @GDGWTMKuwait or email wtmgdgkuwait@gmail.com
GDG Kuwait & WTM Kuwait events are free, open to all genders, skill levels, backgrounds and nationalities. We promote equality, fairness, respect, and expect this from our attendees at all times. We also follow the Google Code of Conduct.
*We will have lunch, snacks and dinner provided only for those who register and attend the workshops.
*Visitors/passerby's will not receive an event badge.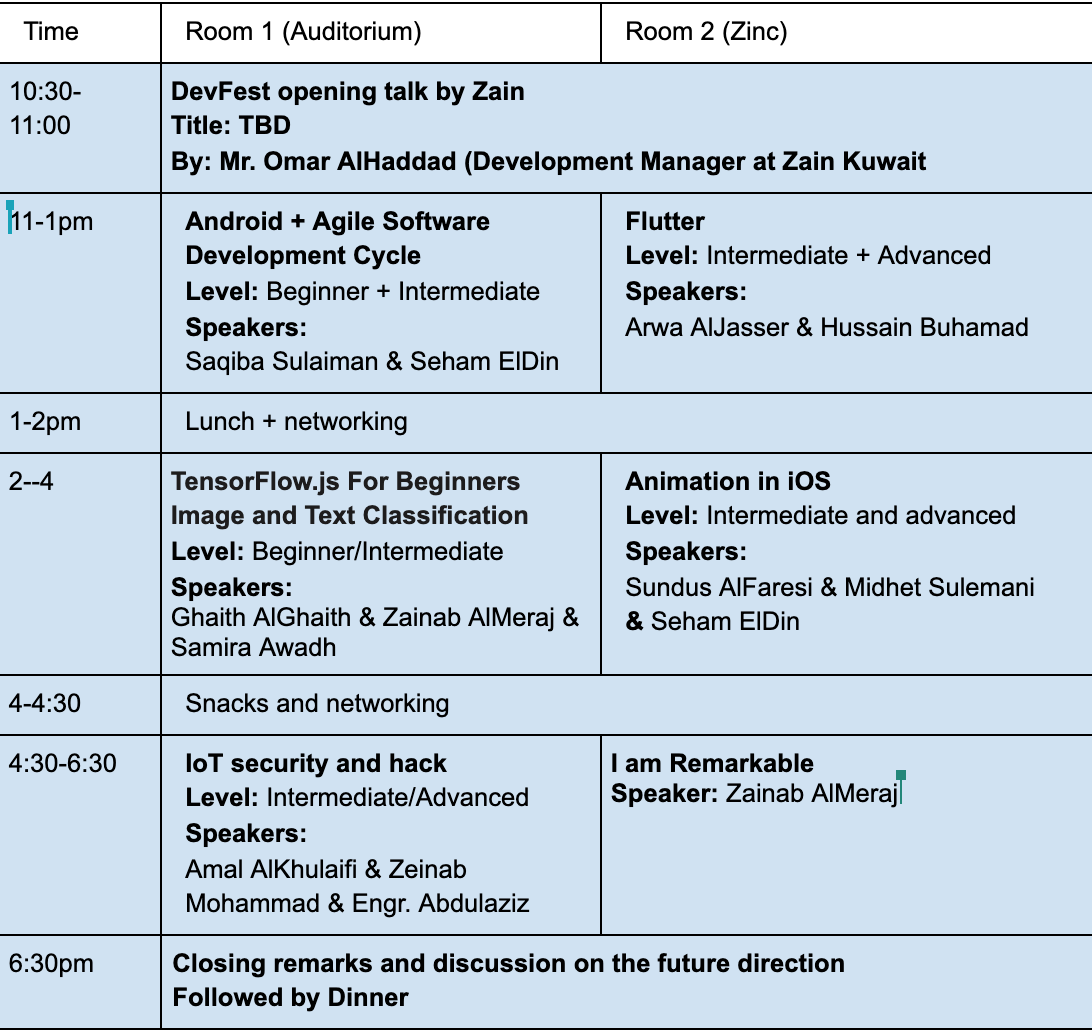 Talk titles and descriptions:
Workshop title: Android and Agile Software Development Cycle (Beginner/Intermediate)
The purpose of this course is to teach the basic to intermediate skills of Android development where a fresher can learn to create Android application from scratch. We will learn to use kotlin and android studio to develop an Android application. One complete basic application will be taught.
Requirements: Basic building blocks of application development & Laptop with Android studio and internet
Workshop title: Flutter (Advanced)
Learn the Idea behind Flutter & why should you as a developer should consider switching to flutter instead of native. Get familiar with Dart and Flutter. Then access an 8 hours workshop in Udacity (in Collaboration with Google).
Requirements: Experience in application development & Experience in programming.
Workshop title: TensorFlow.js For Beginners Image and Text Classification (Beginner)
Learn the basics of Tensorflow.js, a machine learning javascript library, with hands-on applications to process pictures and text using Recurrent and Convolutional Neural Networks.
Requirements: Basic of Programming, Basics of Web development + Javascript, Laptop + Visual Studio Code, Sublime
Workshop title: iOS App - Custom Animations (Advanced)
Learn how to create custom view controller presentation transitions and spice up the navigation of your iOS apps!
Technical requirements: preferred Xcode 10.3, minimum xcode 10, Swift 5, iOS 12, Installation for CocoaPods
Workshop title: IoT Security and Hack (Advanced)
Implementation of IoT using Raspberry pi with sensors. Overview of IoT security & live demonstration of a hacking scenario.
Requirements: Basic knowledge of Python., Basic Knowledge of using Kali. & Installation of Kali.
Workshop: I Am Remarkable
This workshop is meant to empower women and underrepresented groups to overcome cultural, social and gender related issues by giving them the tools to sharpen their self promotion skills. It is also meant to change social norms amongst women and men by promoting and running similar workshops in attendees organization for their colleagues, peers, clients and others.
This workshop is not intended to undo centuries of bias and discrimination but rather focuses on one small, but important, action that each of us can take (and model for others). Change is rarely accomplished in one sweep but rather in small, consistent choices we make daily.