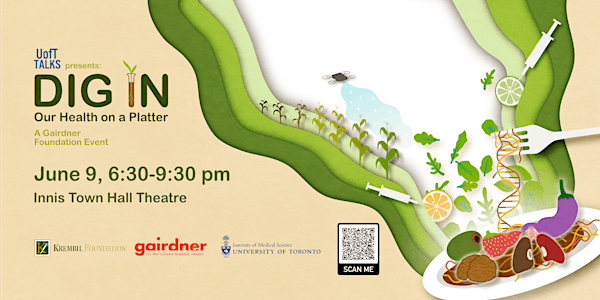 Dig In: Our Health on a Platter
[In-person SOLD OUT!] Join us for an exciting and educational food science event! Stay till the end for networking & dinner
By Student Alumni Faculty Engagement (SAFE)
Date and time
Fri, Jun 9, 2023 6:15 PM - 9:30 PM EDT
Location
Innis Town Hall Theatre 2 Sussex Avenue Toronto, ON M5S 1J5 Canada
Agenda
6:00 PM - 6:30 PM
Registration + Networking
6:30 PM - 6:40 PM
Introduction
6:40 PM - 7:30 PM
Speakers' Remarks
7:30 PM - 8:15 PM
Dinner & Interactive Workshops + Networking
8:15 PM - 9:15 PM
Moderated Panel Discussion
9:15 PM - 9:25 PM
Closing remarks
About this event
3 hours 15 minutes

Mobile eTicket
In-person tickets are sold out! Thank you to everyone who purchased!
If you are a guest, please join us by signing up for a virtual ticket!
We are so excited for you to join us for an engaging and thought-provoking symposium on Food Science at Innis Town Hall! Our event will feature individual talks from four experts from the Toronto community, followed by a panel discussion. Our speakers will explore a variety of topics related to food science, including personalized nutrition and the social and environmental implications of our food choices, and will discuss how food and nutrition can impact brain development, function, and mental health outcomes.
After the panel discussion, attendees will have the chance to interact with our speakers and participate in workshops, followed by dinner. This event is open to all members of the Toronto community who are interested in the latest research and innovations in food science. For those who cannot join us in person, there will be a virtual option through Zoom. Don't miss this opportunity to engage with leading experts and learn how the latest developments in food science are changing the way we think about nutrition and health!
Speakers
1. Dr. Ahmed El-Sohemy
Professor and Associate Chair of Nutritional Sciences at the University of Toronto.
Dr. Ahmed El-Sohemy is a Professor and Associate Chair of Nutritional Sciences at the University of Toronto, and holds a Canada Research Chair in Nutrigenomics. He is also the founder of Nutrigenomix Inc. and serves as the company's Chief Science Officer. Dr. El-Sohemy obtained his PhD from the University of Toronto and completed a postdoctoral fellowship at Harvard. He has published over 200 peer-reviewed papers and has given more than 300 invited talks around the world. His research has garnered considerable media attention over the past 20 years, and he is the recipient of several awards for excellence in research by the American College of Nutrition, the Canadian Society for Nutrition and the American Nutrition Association.
2. Dr. Karen Davison
Researcher, Institute for Life Course & Aging at the University of Toronto.
Dr. Karen Davison is a researcher and works in clinical dietetics practice with individuals diagnosed with mental and cognitive health conditions, including traumatic brain injuries. As a health educator, practitioner, and researcher, Karen has been involved with several initiatives that have advanced health practice among diverse populations. She is an alumna of two Canadian Institutes for Health Research fellowship programs and recipient of Popular Science's Magazine Clinical Leader Recognition Award. She also received a Dietitians of Canada Peer Recognition Award for her work in nutrition and mental health. Karen is currently an Academic Editor for PLoS One, an inductee in the College of New Scholars, Scientists, and Artists of the Royal Society of Canada, and an elected member of Sigma Xi, The Scientific Research Honor Society. Her research interests include nutrition and its relationships with physical, mental, and cognitive health, including interventions that may be used to improve chronic disease prevention and management.
3. Dr. P. Ravi Selvaganapathy
Distinguished Engineering Professor in Mechanical and Biomedical Engineering at the McMaster University
Dr. P. Ravi Selvaganapathy, a Distinguished Engineering Professor at McMaster University, specializes in Mechanical and Biomedical Engineering. He previously held the Canada Research Chair in Biomicrofluidics. His research focuses on microfluidic devices for diagnostics, drug discovery, artificial organs, and tissue engineering. With over 20 years of experience, he has published extensively, including ~170 journal publications, 70 conference publications, and holds 8 patents. His innovative bio-fabrication technologies, including cultured meat production, have received funding through Canada's New Frontiers program.
4. Dr. Sarah Elton
Assistant Professor in the Department of Sociology at Toronto Metropolitan University
Sarah Elton is an Assistant Professor in the Department of Sociology at Toronto Metropolitan University and is the founding director of the Food Health Ecosystems Lab. She also holds an appointment at the University of Toronto's Dalla Lana School of Public Health, where she completed her PhD in Social and Behavioural Health Sciences (2019). Dr. Elton and her team research the human-ecosystems-health nexus in three contexts: produce supply chains, urban gardens, and the human gut microbiome. In 2021, Dr. Elton won an inaugural Gairdner Foundation Early Career Investigator Award. She is the author of several award-winning books including Consumed: Food for a Finite Planet.
Moderator
Coming Soon
DINNER (included with admission)
This year, we have 3 great options from imPerfect Fresh Eats:
Option 1: Char Chicken Bowl (Gluten-Free, Halal)
Base: Forbidden black rice
Protein: Char Chicken
Toppings: Avocado, sweet potato mash, corn, edamame, & crispy onions
Dressing: Garlic avocado aioli & hot sauce
Options 2: Chipotle Grain Bowl (Gluten-Free, Halal)
Base: Forbidden Black rice and spinach
Protein: Chipotle chicken
Toppings: tomatoes, cucumber, sweet corn, beets, alfalfa sprouts, sweet potato mash, crispy onions, taro chips
Dressing: Chipotle ranch
Options 3: Hungry Buddha Bowl (Vegan)
Spinach, black rice, sweet potato noodles
Lemongrass tofu & Seasonal Mushrooms
Sweet potato mash, tomatoes, sprouts, edamame, peppers, onions, & crispy onions with ginger carrot dressing. Vegan
Sponsors:
We would like to thank our generous donors for supporting our event.
The Gairdner Foundation: https://www.gairdner.org
the Krembil Foundation: https://www.krembilfoundation.ca
The Institute of Medical Science, University of Toronto: https://ims.utoronto.ca