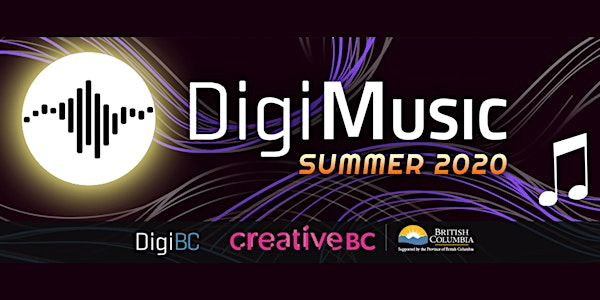 DigiMusic Summer 2020 + Workshops
BC high school students, take part in a FREE music challenge creating a music score for video games or animation film!
About this event
DigiBC is proud to announce the launch of DigiMusic Summer 2020, a free music composition challenge for grades 7-12 students in British Columbia.
We invite young musicians and composers of all varieties to create a musical score that is based around one of the four clips featured on the DigiMusic website from world famous video games and animated films that have been created right here in British Columbia.
All students that submit a musical piece will be entered in a draw to win some cutting-edge music and recording equipment.
We are accepting music entries from now until July 31st, 11:59PM PDT.
INFO LINKS:
Resources
We have included materials and resources to help guide composers through building their music piece. All worksheets and instructional guides are available to download at no cost.
Music Workshops
July 23 EDIT: Thank you everyone for participating in the workshops! If you would like to watch them all, they can all be access here: DigiMusic Workshops
We will also be holding educational workshops via Google Meetups throughout July to assist students with creating their compositions. Here are the dates and topics! Please note: all times are in Pacific.
07.07 @ 1:30pm: Getting Started & Technology - Get familiar with music technology and its history as you learn about DAWs and MIDI, the impact of music in video games, and an introduction into some of the tools you can use to create music!
07.09 @ 1:30pm: Rhythm & Tempo - Learn to create a wide variety of rhythms, from simple to complex, layered, and more, while thinking about the overall emotions you want to convey in your piece. Discover the importance of time signatures and experiment with changing tempos of your composition.
07.14 @ 1:30pm: Melody - Identify iconic motifs and learn what makes them memorable. Apply this to your own music, creating melodic phrases that lead the listener on a musical journey that tells a story.
07.16 @ 1:30pm: Harmony & Texture - Learn how to build intensity, invoke calmness, or generate excitement when crafting harmonies, and build depth and richness through musical textures.
07.21 @ 1:30pm: Timbre & Soundscape - Discover what instruments will create the sound you're looking for through colour and light/dark, to convey the attributes of a character, emotion, place or mood.
07.23 @ 1:30pm: Music Careers in Creative Technology - In this panel, we have industry professionals Jane Aurora (composer/producer at Arrival Sounds), John Morgan (Audio Director at Microsoft), and Marcelo Trevino (composer/producer, music score for The Last Kids on Earth) give their insight on their careers, lessons learned, their unique approaches to creating music, and answer any of your burning questions!