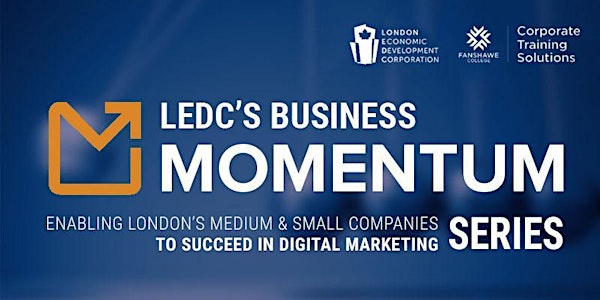 Digital Marketing #2: Now Let's Get Customers Facilitated by Tyler Scott Br...
Event Information
Location
Best Western Plus Lamplighter Inn & Conference Centre
591 Wellington Road
Canterbury Room
London, ON N6C 4R3
Canada
Description
Digital Marketing #2: Now Let's Get Customers
Facilitated by Tyler Scott Bryden, Chief Executive Officer, SixFive Interactive
Presented by London Economic Development Corporation and Fanshawe Corporate Training Solutions
Setting up digital marketing platforms is just the beginning! Now it's time to drive people and customers to those platforms through content marketing and paid advertising.
Participants will:
Create a foolproof content marketing strategy

Learn how to use email, Google AdWords, Facebook Advertising, etc. to drive sales

Discuss various tips on how to succeed on Social Media

Learn how to build an organic online presence with SEO

Measure success using various tools an strategies

Understand what resources and tools to use to get create great content with less resources
---
Targeted to small-to-medium sized London, Ontario business operators/managers. Priority sectors include Digital Creative, Professional Services, Manufacturing, Food Processing, and Health and Life Sciences.
This session has been generously sponsored by the London Economic Development Corporation. It is important that if you register, you do attend. A no-show fee will be charged to registrants who do not attend.
For more information please contact:

Ashley Conyngham, Director of Marketing and Communications
Email: aconyngham@ledc.com
Phone: 519.661.1883
COURSE NAME: Digital Marketing #2: Now Let's Get Customers
DATE & TIME: March 27, 2018
Registration and Continental Breakfast: 8:30-9:00am
Session: 9:00-3:30pm (includes 30 minute lunch)
LOCATION: Lamplighter Inn, 591 Wellington Road (Canterbury Room)
DETAILS: Coffee and lunch included. Please bring your laptop to this session.
FEES:
No cost to attend. $200.00 fee if registered and no-show. One rep/per company
Participants will be requested to complete a Fanshawe College registration should they wish to receive a certificate of participation in this session
Tyler Scott Bryden, Chief Executive Officer, SixFive Interactive
Tyler Scott Bryden is a talented and innovative marketer who focuses on integrating storytelling and technology into his customers' strategy. Tyler graduated from the University of Western for Media, Information and Technoculture and Fanshawe College for Interactive Media Production. The combination of University and College gives Tyler the high-level strategy necessary for implementing practical solutions in an ever-changing digital landscape.
Prior to moving into entrepreneurship, Tyler was a competitive hockey player and Assistant Captain of the Sutherland Cup-Winning London Nationals. During that time, Tyler freelanced as a content creator and website designer. After several years of self-employment, Tyler started his first company, SixFive Interactive,aplatformthatconnectscompaniestotalentedcreatorsandmarketers. Tylerproudlybrings the work ethic and skill set gained from school, hockey, and freelancing to the forefront every day as a team leader.
In his current role, Tyler focuses on the day to day strategy and continues to evolve his company's operational systems and processes to ensure each customer gets an effective results-oriented solution. Tyler's company, SixFive Interactive, is an alumnus of Western's Propel Summer Incubator Program, a founding tenant of Innovation Works, and a recognized community engager. A passionate entrepreneur, mental health advocate, and social innovator, Tyler thrives when creating connections and supporting organizations throughout London, Toronto, and surrounding areas.
Please be advised that photographs and video may be taken at LEDC events for use on LEDC web, print and social properties. We won't sell your photo, but we may share it with media and/or partner organizations. By attending this and any LEDC event, you consent to being photographed and/or filmed, and to your image or likeness being used at LEDC's discretion.
Learn about all of the upcoming events. Sign up for the LEDC Newsletter by clicking here



Date and time
Location
Best Western Plus Lamplighter Inn & Conference Centre
591 Wellington Road
Canterbury Room
London, ON N6C 4R3
Canada