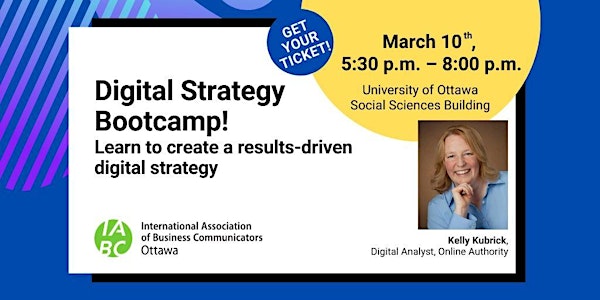 Digital Strategy Bootcamp
Event Information
Location
Social Sciences Building
120 University Private
15th Floor, Room FSS-4004
Ottawa, ON K1N 6N5
Canada
Learn to create a results-driven digital strategy
About this event
In an age of declined organic reach, constantly changing algorithms, and the switch from public to private online communities, how do communication professionals keep their digital strategy up to date?
On March 10, 2020 from 5:30-8:00pm join IABC Ottawa at the University of Ottawa for their digital strategy bootcamp with go-to expert Kelly Kubrick. You will learn how to take control of your digital platforms and develop targeted, accessible campaigns that help you achieve your organization's goals. Kelly will explain:
1 - Why you need a mix of paid, owned, and earned media,
2 - How to integrate digital advertising into your media mix and determine your cost to click/conversion rate, and
3 - Ways to measure success.
At the end of the bootcamp you'll be given a case study to put your knowledge to practice and walk away with a one-pager highlighting the key takeaways.
Speaker Bio:
Kelly Kubrick is President of Online Authority, where she operates at the intersection of digital analytics and digital advertising. Kelly assists clients with the implementation digital advertising campaigns infused with digital data insights. Since 2002, Online Authority has had the privilege of working with 160 clients, completing hundreds of engagements. Kelly is also co-owner and Chief Operating Officer of MyLiberty.Life, a 4-year-old national ecommerce retailer. She co-founded and served as Chair of Digital Strategy Conference and co-authored its "Six Dimensions of Digital Maturity" Model. Previously Kelly was Director of Ecommerce Development at Time Warner in New York, and she holds an MBA from NYU.
Your ticket includes an assortment of appetizers. Vegetarian options will be available.
Date and time
Location
Social Sciences Building
120 University Private
15th Floor, Room FSS-4004
Ottawa, ON K1N 6N5
Canada