Digital Transformation and Intelligent Capture - AIIM breakfast meeting
Description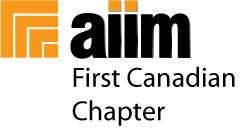 AIIM First Canadian Chapter is excited to welcome Sandy Kemsley, an independent industry analyst specializing in business process management (BPM), to talk about the ongoing radical shift to digital platforms and new business models, and the role that intelligent information capture plays in this new paradigm.
This presentation will look at how digital transformation is increasing the value of capture and text analytics, recognizing that these technologies provide an "on ramp" to the intelligent, automated processes that underlie digital transformation. Using examples from financial services and retail companies, we will examine the key attributes of this digital transformation. We will review step-by-step, the role of intelligent capture in digital transformation, showing how a customer-facing financial services process is changed by intelligent capture technologies. We will finish with a discussion of the challenges of introducing intelligent capture technologies as part of a digital transformation initiative.
Sandy's presentation will be followed by a short presentation/demonstration by ABBYY, the sponsor of this month's breakfast seminar. ABBYY is a provider of intelligent capture and text analytics solutions
Our speaker: Sandy Kemsley, Kemsley Design Ltd.
Sandy Kemsley is an independent analyst, consultant and process architect specializing in BPM and the social enterprise. During her career, she has founded companies in the area of content management, process management and e-commerce, and held the position of BPM evangelist at FileNet (now IBM). Sandy writes a popular BPM blog at www.column2.com and is a featured conference speaker on BPM and digital transformation. She is a contributing author to books on social BPM and adaptive case management, and the winner of the 2016 Marvin L. Manheim award for significant contributions in the field of workflow.