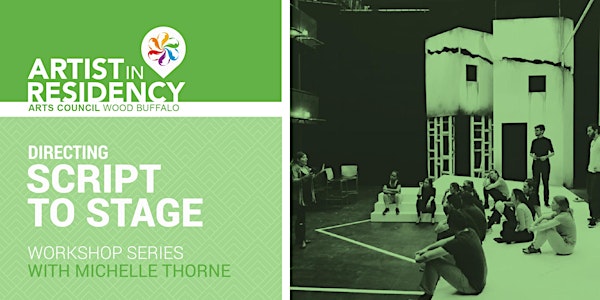 Directing: From Script to Stage
Professional Director Michelle Thorne will take you from 'Script to Stage' in this 4-week online workshop series.
By Arts Council Wood Buffalo
Refund Policy
Contact the organizer to request a refund.
About this event
This program has been moved online, and will still continue!
Arts Council Wood Buffalo's Artist in Residency & Mentorship Program, presented in partnership with Keyano Theatre & Arts Centre, will feature a 'director's stream' for those interested in learning the 'ins and outs' of creating theatre from script analysis to design concepts & collaborations to stage management, auditions, casting, and more.
This workshop series will have a minimum required enrollment of four people, up to a maximum of 12, ages 16 and older.
Program update: Workshops will be offered in an online platform to support social distancing and those that are quarantined or self-isolating. ACWB will be contacting registrants with details. See attached schedule for more details.
Registration is now FREE: In an effort to keep Arts Council (ACWB) programming accessible, the ACWB team has decided to make registration for this program free to Wood Buffalo residents. A fee will still be charged for those outside of the region.
Format: Online Platform - Zoom
Workshop dates: March 22 to April 13, 2020 (Sundays and Mondays only)
Workshop times: Sundays: 1pm - 4pm / Mondays: 6pm- 9pm*  
*Exact dates/times are subject to change depending on preference of participants.

About the organizer
Arts Council Wood Buffalo (ACWB) is a non-profit society and charitable organization that supports the growth and success of the arts in Wood Buffalo. ACWB was established to raise the profile of the arts in our region and to provide support to all facets of the arts community.
ACWB offers a variety of services and events that: build the capacity of our local artists to compete and thrive; enable collaborations between artists, arts organizations, non-profits, and industry; and, advocate for our region's arts municipally, provincially, and federally.
Through these initiatives, Arts Council Wood Buffalo is fostering an environment that embraces the arts as integral to a remarkable quality of life.