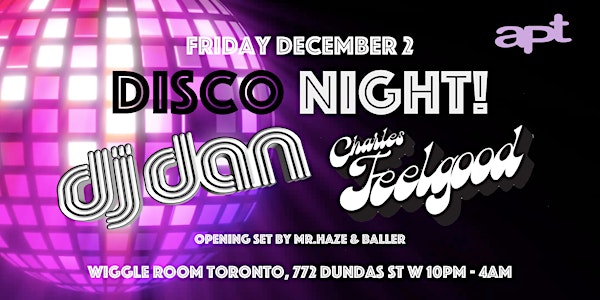 DISCO NIGHT! DJ Dan & Charles Feelgood 4HR Set
Join us for a Disco Night when Charles Feelgood returns to Toronto to team up with DJ Dan for a special night of disco & funk grooves!
When and where
Location
Wiggle Room Toronto 772 Dundas Street West Toronto, ON M6J 1V1 Canada
About this event
apt Disco Night! Can you dig it? 😎
We're taking you to the Disco on Friday December 2 when Charles Feelgood returns to Toronto to team up with DJ Dan for a special Disco Night, with local support from Mr.Haze & Baller! Join us for groovy beats and thick vibes! ❤️🕺🏽🔥
FRIDAY DECEMBER 2: DISCO NIGHT!
DJ DAN B2B CHARLES FEELGOOD (4-hr set)
Support from Mr.Haze & Baller
@ Wiggle Room Toronto, 772 Dundas St W
10:00 PM - 4:00 AM
Tickets: $15 early bird, $20 / 25 general advance
~ about the artists ~
DJ DAN - Los Angeles, In Stereo
FB/IG @djdanmusic
Stereo Damage Disco Mix 🎧 https://soundcloud.com/djdanmusic/sd-podcast-ep107
Innovator, tastemaker and a true legend - DJ Dan's sound combines the spirit of 70s Disco and Funk with driving House and Techno. Throughout his expansive career he has played some of the top clubs and events around the globe. With his label, In Stereo Recordings, Dan continues to push boundaries and influence the future of dance music as well as inspire countless DJs and producers. He's created numerous celebrated releases from 'Needle Damage' to his first Platinum record, remix of Orgy's 'Blue Monday' to Electroliners 'Loose Caboose' and his album 'DJ Dan & Friends' which hit #1 for Beatport album sales in the first week of release. Dan has also remixed for other world renowned talent including Depeche Mode, New Order, Lady Gaga, Duck Sauce, Black Eyed Peas, Janet Jackson, A Tribe Called Quest, Carl Cox, Trent Cantrelle and Fort Knox Five. As the dance music world continues to evolve, DJ Dan continues to be one of its strongest voices and most powerful influencers.
CHARLES FEELGOOD - Los Angeles, Guesthouse
Dirty Disco Mix 🎧 https://soundcloud.com/charlesfeelgood/dirty-disco-for-unicorns-charles-feelgood-09-01-2020
Charles Feelgood's rise to dance music infamy dates back to his humble beginnings as a leading force behind the Baltimore/Washington DC dance music scene. His initial popularity was assisted thanks in part to his legendary mixed series, "Time to Get Ill" and has continued to flourish through the release of remixes and singles such as "Jacker's Anthem," "My Life" and "Watchu Gonna Do". He is a mainstay in the charts on BeatPort and Traxsource as well as other worldwide digital sites. In the past few years Feelgood has had several releases on Major and Independent labels such as, Instereo, Guesthouse, Fogbank and Ammo Recordings - with a breakout track called "Bebop" that stayed in the Beatport and Traxsource charts for almost a year. Feelgood remains committed to lighting up dance floors around the world – summing up his musical mission in one sentence: "I just want to do what the name implies, to make people have a good time and go home with a great feeling".
Opening grooves from locals:
Mr. Haze @mrhazeofficial
Baller @ballertorontohousemusic
❤️
Apt Entertainment Inc @aptentertainment
Wiggle Room Toronto @WiggleRoomToronto
"The feeling's right and the music's tight on the disco niiiights..." -GQ