Description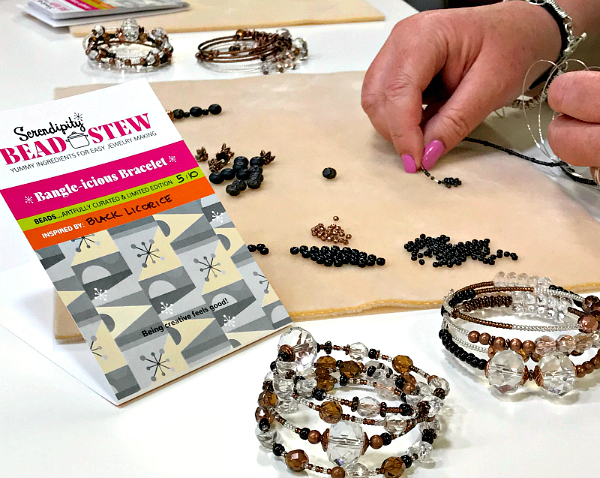 YOU'RE INVITED…
... To a Suzie Q Studio, Serendipity BEAD STEW Bracelet-Making PARTY at Dream Dog Boutique, which is located in the inner-city, Lower Mt. Royal/Beltline area in Calgary, AB.
If you're not already familiar with Serendipity BEAD STEW, each "Bangle-icious" Bracelet kit contains all of the yummy ingredients you'll need to make one bangle-style bracelet, including unique, premium quality beads made from various materials such as: metal, stone, glass, enamel, resin, crystal, acrylic and more.

The scrumptious bead combinations in all of our BEAD STEW Kits have been artfully, hand-picked in Limited Edition quantities, by an ultra-creative, Suzie Q Studio "Bead-Whisperer", for you to make a one-of-a-kind bracelet that'll have that super-cool look of multiple bangles stacked on your wrist. Plus, we save you the time and stress that can be involved in choosing beads, so that you have the fun part of making your project.
Something to keep in mind... To ensure unique bracelet creations, once a particular edition of a Serendipity BEAD STEW Kit is sold out, we don't create the same bead-combo ever again, so when you see a kit that makes your heart sing, snap it up while you can!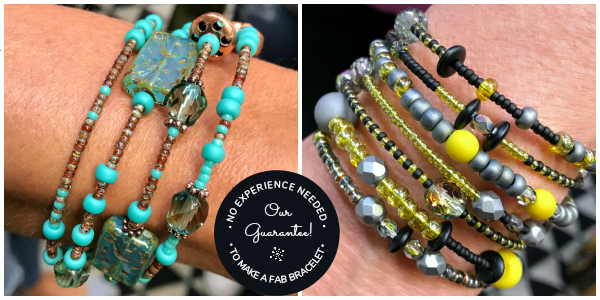 BEING CREATIVE FEELS GOOD!
Whether you feel that you have no artistic talent, whatsoever, or you're a long time maker-type, Serendipity BEAD STEW bracelet kits are the perfect, no-stress solution for some good, creative fun, because no matter how you string your beads onto the bracelet "memory wire", our bead combos are so unique and wonderful that you're guaranteed to have totally FAB and professional-looking results!
Creating a BEAD STEW bracelet is perfect in a group setting at one of our Parties because this project doesn't require intense concentration, which means that you can still be social and inspired by your fellow participants, at the same time as creating your bracelet… So grab a friend and book your spots because only limited spaces are available.
THE BEAD STEW PARTY INCLUDES:
Your choice of a Serendipity BEAD STEW "Bangle-icious" Bracelet Kit to create one bangle-style bracelet

Oodles of BEAD STEW kit styles will be available to choose from at the Party

Step-by-step, expert instruction and design tips 'n' tricks will be provided

Use of tools and design mats

Additional Serendipity BEAD STEW kits will be available to purchase at the event at $48 each + GST
IMPORTANT DETAILS TO KNOW:
In order to secure your spot in this BEAD STEW Bracelet-Making Party, you must purchase your ticket online in advance of the event date. You'll receive an e-ticket to confirm your registration. Sorry, no "Drop-In" available.
All Party/Workshop fees are NON-REFUNDABLE and NON-TRANSFERRABLE (without permission by the organizer). Should you need to cancel for any reason, please contact Suzie Q Studio by EMAIL at least 48 hours in advance of the event, for possible alternative options at the organizer's discretion.
The cost is $48.00/person + Fees + GST

It'll take 2-3 hours to complete your bracelet

Only 10 spots are available

No need to print the ticket if you have proof of purchase on your smart phone

Participants under 13 years of age must be accompanied by a participating adult

No need to bring anything to the BEAD STEW Party, EXCEPT if you require "READERS" for up-close tasks. Some of the beads in the kits are pretty small, so remember to bring them, if needed!

Accessible by Calgary Transit, plus a short walk

A "Good Earth" cafe is one block away, however all beverages being consumed at the Party must have a lid or cap to prevent spills
---
Want some bracelet "Design Inspiration"?
Visit Suzie Q Studio's Serendipity BEAD STEW Idea Gallery by CLICKING >>> HERE!