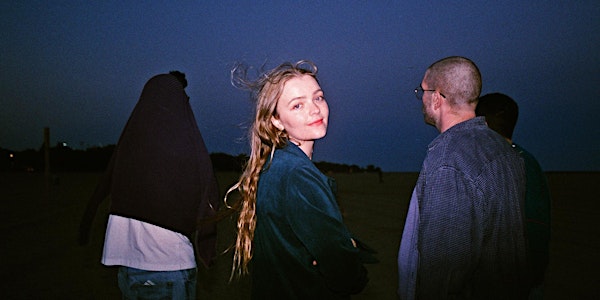 Dizzy
Ages 19+
Supercrawl Presents
Supercrawl Presents Dizzy — Live at Bridgeworks!
Date and time
Starts on Sun, Nov 21, 2021 8:00 PM EST.
Location
Bridgeworks 200 Caroline St. N. (off Barton St. W.) Hamilton, ON L8R 0A6 Canada
Performers
Headliners
More Performers
About this event
PROOF OF FULL COVID-19 VACCINATION REQUIRED FOR ENTRY
The province of Ontario requires all attendees to supply government-issued proof of full COVID-19 vaccination (with Government of Canada approved vaccines, with final dosage administered at least 14 days before door time). Government issued photo ID matching details on vaccination must also be presented for validation purposes. If you were vaccinated outside of the province of Ontario or outside of Canada, please provide a digital PDF or printed copy of your government issued vaccination confirmation receipt for your Government of Canada approved vaccine. Electronic vaccine receipt can be obtained using a green Ontario health card via covid19.ontariohealth.ca.
FACE MASKS REQUIRED in compliance with Ontario Reg. 364/20 under Reopening Ontario Act, 2020, S.O. 2020 and City of Hamilton Bylaws 20-155 and 20-202
Active screening, contact tracing, proper face masking and PPE, physical distancing from individuals outside of one's household, and capacity limits all have important roles to play in enhancing the safety of our performance spaces, limiting viral spread, and improving health metrics in the wider community.
••
Dizzy • Spill My Guts Tour • With Special Guests Ada Lea
On their 2018 debut album Baby Teeth, Dizzy offered up a batch of lucidly detailed coming-of-age songs, a real-time reflection on the minor tragedies and major disappointments of post-adolescence. As their dream-pop opus drew global acclaim (and won Best Alternative Album at the 2019 JUNO Awards), the Oshawa, Ontario-based band found that their finely wrought outpouring had built a powerful bond with their fans — a contingent that frontwoman Katie Munshaw refers to as "our little heartbreak club." Joined by the trio of brothers who make up the rest of Dizzy — drummer Charlie Spencer and his siblings Alex (guitar) and Mackenzie (bass) — Munshaw soon set to work on an album exploring an even more tangled landscape of feelings.
"Baby Teeth was all about the confusion and sadness of my late teens, but this one is more about the qualities about myself that I'm not very proud of," says Munshaw of Dizzy's self-produced sophomore effort, The Sun and Her Scorch, to that end, the album's title serves as a metaphor for the quietly damaging effects of those qualities, both on Munshaw herself and on those in her orbit. "I wanted to be completely honest about the things nobody ever wants to admit, like being jealous of your friends or pushing away the people who love you," she says. "So instead of being about romantic heartbreak, it's really about self-heartbreak."
An album infinitely brightened by Dizzy's heavenly melodies, The Sun and Her Scorch brings its truth-telling to confessions of insecurity and resentment and fear of failure. On the beautifully breezy lead single "Sunflower," Munshaw drifts between self-loathing and tender self-talk, her lyrics alternately telegraphing raw sensitivity and sweetly self-deprecating humour (e.g., "I wanna hear the sound/Of what a broken heart does/When I fling it to the ground"). With its heart-on-sleeve storytelling, the languid and lovely "Roman Candles" returns to one of Dizzy's most enduring themes: the unending restlessness of suburban living. ("'Roman Candles' is me crooning about my friends who moved away while I'm still living in my mom's house, and wondering if I've made the right decisions in my life," says Munshaw.) And on "The Magician," Dizzy performs a sort of delicate alchemy, transforming a story of tragedy into an ineffably joyful and danceable track. "It's about a friend of mine who passed away and wishing I could magically bring her back, however naïve that is," Munshaw explains.
On both Baby Teeth and The Sun and Her Scorch, Dizzy instil their songs with a warm and open-hearted sincerity, an extension of the gentle camaraderie within the band itself. Though they formed in 2015, Dizzy's origins lie in the longtime friendship between Munshaw and Charlie, who met in ninth-grade math class and later sang together in the school choir. Upon graduating high school, the two decided to sidestep the university path and start a band, enlisting Mackenzie and Alex and getting their start gigging in local bars. After playing one of their very first shows in Toronto, Dizzy landed a deal with Royal Mountain Records, then released Baby Teeth in August 2018. Along with winning their Juno Award, the band found Baby Teeth included on the 2019 Polaris Music Prize Long List and praised by such taste-making outlets as Stereogum, Earmilk, and The Line of Best Fit.
In bringing The Sun and Her Scorch to life, Dizzy tapped into their increased sense of closeness and confidence, an element that Munshaw attributes to their frequent touring over the past few years (including stints opening for artists like Death Cab for Cutie, Oh Wonder, Tokyo Police Club, and U.S. Girls). Describing the process as "totally challenging and completely rewarding," the band took an entirely self-directed approach to every aspect of the album's creation, introducing a more kinetic energy into their sound through their lavish use of live instrumentation. "We wanted to take the reins and make sure that what we ended up putting out was exactly what we envisioned," says Munshaw, noting that Charlie played a vital role in the album's production. Recorded partly at Mechanicland Studios — and in Munshaw's mother's basement — The Sun and Her Scorch also unfolds in subtle sonic details that speak to the playful spontaneity at the heart of their artistry. (In the making of "Sunflower," for instance, Dizzy incorporated a voice-memo recording of a choir performing at a local rec center during Munshaw's sister's volleyball practice.)
In all of their output, Dizzy reveal a rare willingness to expose their messiest emotions, as well as an incredible power to turn that self-revelation into songs primed for singing along. "With the new album especially, I'm saying things I wouldn't ever say to anyone out loud, and now I'm going to be singing them in front of hundreds of people," says Munshaw. "I think the main thing I'd like people to take away is the idea that everybody probably has these negative thoughts about themselves sometimes, but it's okay — you're really not that bad. And if there's an underlying philosophy to our band, it's to be confident and believe in yourself no matter what."
Instagram | Facebook | Twitter | TikTok | Spotify | Apple Music
•
one hand on the steering wheel the other sewing a garden is the name of the second album by Canadian songwriter Alexandra Levy, publicly known by the moniker Ada Lea. On one hand, it's a collection of walking-paced, cathartic pop/folk songs, on the other it's a book of heart-twisting, rear-view stories of city life. Ada Lea has followed up the creative, indie-rock songcraft of her debut what we say in private with surprising arrangements and new perspectives. The album is set in Montreal and each song exists as a dot on a personal history map of the city where Levy grew up. Released Sept 24, 2021 on Saddle Creek and Next Door Records in Canada, the physical record will be released alongside a map of song locations and a songbook with chords and lyrics, inspired by Levy's love of real book standards.
Levy penned and demoed this batch of songs in an artist residency in Banff, Alberta. After sorting and editing she made her way to Los Angeles to record with producer/engineer Marshall Vore (Phoebe Bridgers) who had previously worked on 2020's woman, here EP. After a long walk to the studio each morning, Levy spent her session days diving into the arrangements, playfully letting everything fall in place with complete trust for her collaborators, who included Vore, drummer Tasy Hudson, guitarist Harrison Whitford (of Phoebe Bridgers band), and mixing engineer Burke Reid (Courtney Barnett). Many songs came together with a blend of studio tracks and elements from the pre-recorded demos.
The resulting sounds range from classic, soft-rock beauty to intimate finger-picked folk passages and night-drive art-pop. And the textures are frequently surprising due to the collage of lo-fi and hi-fi sounds that tastefully decorate the album without ever clouding the heart-center of the song. Tracks like "damn" and "oranges" feel timeless with their AM gold groove and 70's studio sheen, while songs like "my love 4 u is real '', "salt spring" and "can't stop me from dying" sound completely modern in their use of electronics, sound effects, and pitched vocals. In their subtle, sonic variety, all of the album's songs flow together with ease into one big, romantic dream for Levy's silken vocals to float above.
••
This event is 19+. Valid government issued photo ID is required in order to enter. Door time, set times, and event schedule subject to change. Event subject to change in response to municipal and provincial public health guidelines.
About the organizer
Sonic Unyon is a Canadian indie record label, festival promoter, venue operator, and community partner in Hamilton, Ontario.