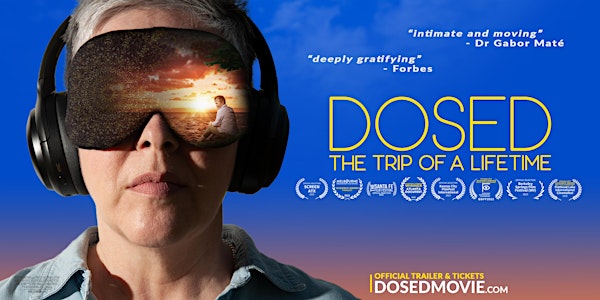 'DOSED: The Trip of a Lifetime' + Q&A in Ottawa
The award winning documentary, 'DOSED: The The Trip of a Lifetime' + Q&A in Ottawa - Oscar Qualifying Theatrical Release
Date and time
Sun, Apr 23, 2023 2:30 PM - 4:30 PM EDT
Location
Mayfair Theatre 1074 Bank St Ottawa, ON K1S 3X3 Canada
About this event
🌱🍄✨ We're excited to announce 'DOSED: The Trip of a Lifetime' will embark on an Oscar-qualifying theatrical release in April!
The screening in Ottawa will take place on April 23rd at 2:30pm. Please come early to meet members of the psychedelic community and stay after the film for a panel discussion and audience Q&A. Panel experts TBA.
Please consider bringing your parents, grandparents, or skeptical friends and fuddy-duddies to help them understand why everyone is becoming more and more interested in the therapeutic applications of psychedelics.
Documentary Synopsis:
A loving mother of four is granted the legal right for medical use of magic mushrooms. She then embarks on a remarkable journey of personal transformation and healing while exploring lesser known possible cures for cancer, like cannabis oil. This story of courage and resilience calls into question everything we think we know about the human body, mind, and spirit.
'DOSED: The Trip of a Lifetime' features: Dr Gabor Maté, Paul Stamets, Dennis McKenna, Dave Phillips, Sharan Sidhu, Ben Lightburn, Chino Julian, Garyth Moxey, Dr Rob Sealey, Dana Larsen, Tyler Chandler, Nicholas Meyers, and Laurie and Glenn Brooks.