Event Information
Location
Odd Society Spirits
1725 Powell Street
Vancouver, BC V5L 1H6
Canada
Description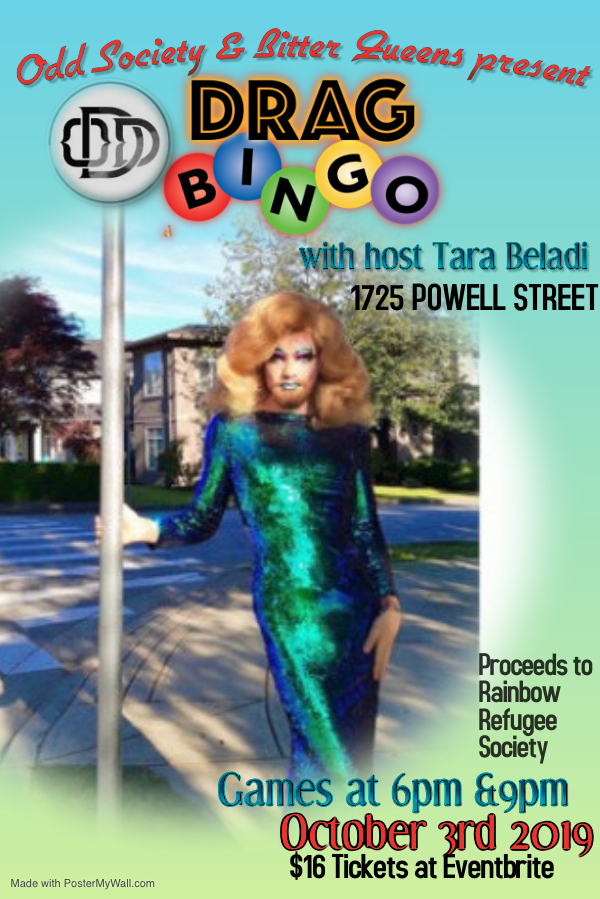 Odd Society Spirits is proud to partner with the sensational Bitter Queens duo to present Drag Bingo on Thursday, October 3. Vancouver's most enticing Swedish snack, Tara Beladi will be your host for two bold and interactive sessions (6pm and 9pm) of Drag Bingo, while the fabulous Bitter Queens take over the Odd Society bar with their distinctive cocktail menu. Each session includes multiple spirited games of bingo with an assortment of intriguing prizes. Delicious libations and playful antics aren't the only things on the menu—Hand Taste Ferments is popping up with a tempting snack menu including tasty corn dogs (both vegan and meat).
Tickets are priced at $16 and include one session of Drag Bingo and a satisfying welcome cocktail. Proceeds from each ticket sold will be donated to the Rainbow Refugee Society.
Get your tickets while they are hot!
Location
Odd Society Spirits
1725 Powell Street
Vancouver, BC V5L 1H6
Canada
Refund policy