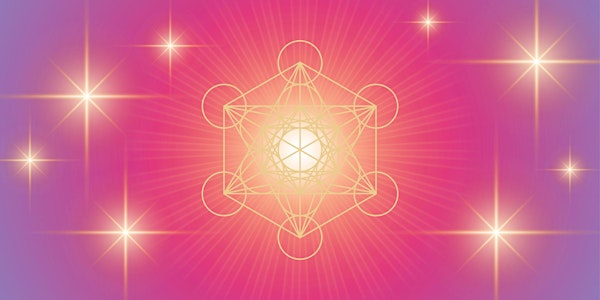 Drawing, Breathing & Channeling to Access Metatron's Consciousness
Drawing, Breathing & Channeling to Access Metatron's Consciousness
Date and time
Sat, Jun 17, 2023 11:00 AM - 4:00 PM PDT
Refund Policy
Contact the organizer to request a refund.
Eventbrite's fee is nonrefundable.
About this event
Join Nadi Hana and Waxela Sananda as they co-create this powerful opportunity for expansion and activation.
The workshop will be a combination of learning about Sacred Geometry and drawing Metatron's cube; combined with Meditation, Breathwork and Channeling. The event will have limited space to create an intimate and supportive setting for activation and expansion. Early registration is encouraged!
Participants will draw their own Metatron's Cube and receive activation codes downloaded through Waxela's transmissions of Metatron Source Consciousness. We will integrate the universal intelligence with Meditation, Breathwork and complementary practices of crystal gridding, intention setting and creative expression as a healing modality.
You can draw this amazing shape without any experience. You will need a compass, pencil, ruler and small eraser. 11"x14" size paper is preferred but 8 .5" x11" will work.
You will receive PDF step by step drawing instructions to support your ongoing drawing as well as the recording of the session. Join us for this unique opportunity to expand your consciousness to the next and highest expression of your soul's purpose!
Your Hosts:
Waxéla Sananda
Waxéla (wa-shay-la) Sananda is a Galactic Shaman, Embodied Ascension Trainer, Conscious Life Mentor, Activator of Spiritual Gifts, bestselling author of The Love You Crave: A Course in Ascension, Alchemy, and Connection to the Divine, and host of The Alchemy of Ascension Summit and Podcast.
Combining celestial starseed consciousness and shamanism, Waxéla holds space for humanity to experience the embodiment of Divine Frequencies. She is a conscious light channel assisting in the activation of spiritual gifts and soul codes within her soul family.
She has been a lifelong extra-dimensional contactee and holds memories from multiple Earth and star race incarnations. Her mission is to assist and support the Ascension of Earth and Humanity.
Website: https://waxelasananda.com/
Nadi Hana:
*Nadi Hana is an inspiring instructor and professional transition specialist, serving the expansion of human consciousness through the activation of our multidimensionality. She hosts international calls and private sessions exploring how technologies of Advanced Civilizations can support our individual and collective evolution. Her life path is dedicated in service to the awakening of humanity and unity consciousness.
For more information about Nadi's offerings please visit the website at www.galacticrosegeometry.com
About the organizer
*Nadi Hana is a Portland-based artist and teacher. She has been sharing her knowledge about Sacred Geometry, Crop Circle Formations and Human Consciousness through public presentations since 2015.  Nadi offers Sacred Geometry classes at Portland Community College, New Renaissance and private locations.