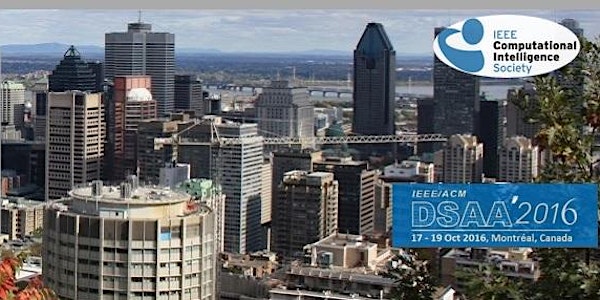 DSAA 2016, the 3rd IEEE Intern. Conf. Data Science & Advanced Analytics
When and where
Location
Montreal 1050 de la Gauchetiere West, H3B 4C9 or 1 Place du Canada, H3B 4C9 Montreal, Quebec Canada
Description
For DSAA authors: Congratulations on the acceptance of your paper. Note that every paper requires a separate

author

registration, e.g., an author of two (2) papers

submits two author registrations

. Please, provide the paper # in your registration form.
One registration includes all DSAA sessions, one reception (Day 1), one dinner ticket (Day 2), 6 coffee breaks, and one walk tour of Montreal. Please indicate your participation in those events in the registration form. Extra tickets for reception, walk tour and dinner are available at additional costs.

Early Bird registration is available till Sept 6, 2016. Starting Sept. 7, 2016, registration fees will go up. Rates are different for general (non-authors, non-students), DSAA authors and student (authors and non-authors alike) registrations. IEEE/ACM/ASA members get discount.
All prices are in Canadian dollars (!).

There is NO cancellation of the registration; transfer of the registration is possible.
There will be NO cash payments;

For oversea attendees, credit card payment via Eventbrite is the best option.





If it is not possible, the oversea attendees can send the bank draft or international money order (all in CAD payable to "The University of Manitoba - Attn: IEEE/ACM DSAA 2016 Conference").

Do NOT send personal cheques to the conference organizers.




Note that neither the conference nor the conference organizer (e.g., Finance Chair) is responsible for any loss of bank draft or international money order in the mailing or courier process. Attendees who pick this less preferred option should note that it may take some long time to process a bank draft or international money order. Registration is NOT considered complete until the bank draft or international money order is cleared. If you have questions, please contact the Registration Chair (sokolova@uottawa.ca) or Finance Chair (dsaa16@cs.umanitoba.ca)
Click on the "Tickets" button (in upper right corner) to proceed with registration.