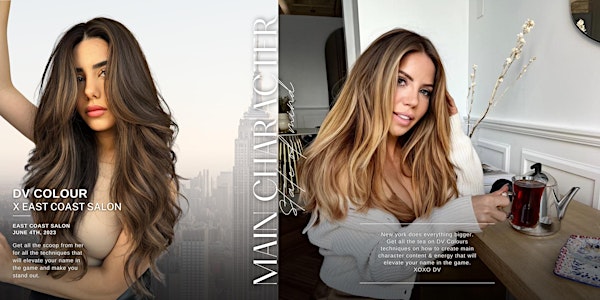 DvColour X East Coast Salon - Main Character State of Mind
Dv Colour is coming to the Big Apple! Get all the scoop from her for all the techniques that will elevate your name in the game!
Date and time
Starts on Sun, Jun 4, 2023 9:00 AM EDT
Location
East Coast Salon 27 East Main Street Denville, NJ 07834
Refund Policy
Contact the organizer to request a refund.
Eventbrite's fee is nonrefundable.
About this event
The biggest news on the front page of the New York Times!
Gossip girl is back. DvColour is Spilling the Tea!
It is officially time to hit New York City and pour the secrets of Diana's years of experience. Walk out of this masterclass with the Main Character Energy and transform all clients exactly how you envisioned. And you know what that means - Main character state of mind.
You deserve to charge more! YOU WILL GET ALL THE TOOLS TO EXECUTE EVERY CLIENT WITH CONFIDENCE AND INCREASE YOUR INCOME. DV isn't just sharing her techniques, but also the most common mistakes to avoid.
Get DV Colour approved!
Sources tell me this class is unlike any before.
It's the talk of the year. Diana has been meticulously planning her 2023 collection with LIMITED SEATS AVAILABLE. You can get up close and see exactly how DV navigates her dramatic makeovers and fast paced process that she is known for.
In this interactive masterclass Diana will share her years of experience with TWO Cotrasting LIVE MODELS demonstrating the keys to simplify every canvas that sits in your chair.
New York, does everything bigger and better. Beat the traffic 48 hours before the master class as DV will be sliding into your DMs with a complimentary Bonus Video, valued at $399, to prepare you for the DvColour Master state of mind techniques. Get full access to every step of the process.
Get the scoop, starting with a sassy consultation, moving to placement that is not hush-hush.
DO YOU OVER FOIL AND LOSE YOUR TECHNIQUE? Let's get it together on your strategy.
FEELING LOST WITH YOUR EXECUTION? Get the insider on DV's design ratio.
SAVE YOUR ENERGY, DON'T STRUGGLE WITH SPEED!
And to top this class off, get all the boss energy styling and social media tips.
Main character energy! The focus is on you, the lights are on you, the cameras are on you.
No matter what position you are at. Remember everyone has to start from the bottom to get to the top, and if you're already at the top, how do you expand?
Leave that to Daina.
XOXO Gossip Girl
Hot topic menu:
Free Introduction Video
Two Live Models
Steep Techniques
Sassy Consultation
Placement that is NOT Hush-Hush
Speed Up Strategy
Wet Balayage
Face Frame Contour
Zone Toning Zen
Perfect Blenders Styling
Social Media Speciali-tea
Business Strategy
Q&A