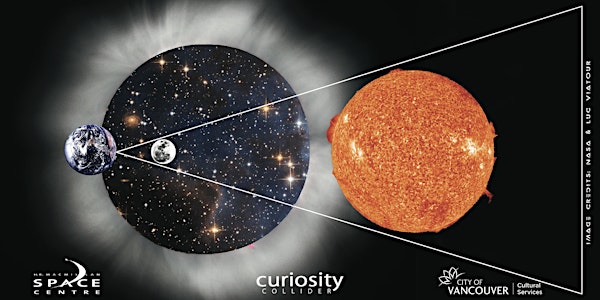 Eclipse: Total Alignment
When and where
Location
H.R. MacMillan Space Centre 1100 Chestnut Street Vancouver, BC V6J 3J9 Canada
Refund Policy
Refunds up to 7 days before event
Description
Curiosity Collider and the H.R.MacMillan Space Centre present:
ECLIPSE: TOTAL ALIGNMENT
Art and Science Explore the Momentary Darkness.
ἔκλειψις (ékleipsis) - "the abandonment", "the downfall", "the darkening of a heavenly body."
Our human experiences of astronomical events depend on the past and present spectrum of our cultural relationships with science, technology, theology, and mythology. ECLIPSE:TOTAL ALIGNMENT is a sensory exploration of the ways that we frame this rare total alignment of the sun, earth, and moon. Join Curiosity Collider and the H.R. MacMillan Space Centre to explore this momentary darkness through art and science.
The event includes a performance show in the Planetarium Star theatre, and interactive multi and mixed media art installations in the Cosmic Courtyard exhibit space. Highlights:

a soundtrack of the solar system created by data sonification
a dance piece that plays with alignment, light, and shadow
scientific narration about the of the upcoming total solar eclipse (on August 21st) and the phases of the moon
spectacular custom planetarium dome visuals
meeting the artists and scientists behind one-of-a-kind interactive and multimedia art projects
You can choose either the early 730pm or 9pm planetarium show and come early or stay after to experience the rest of the event!
This event is 19+ only. Beer and wine available for purchase, light snacks included. Limited early bird tickets available before August 4.

Updates about this event and performer profiles will be shared on the event Facebook page.
This show is curated by Curiosity Collider's Creative Director Char Hoyt, and developed in collaboration with the H.R. MacMillan Space Centre. Participating artists and scientists: Armin Mortazavi (science storyteller and cartoonist), Brady Marks (interactive and digital mdeia artist), Christa Van Laerhoven (astronomer, planetary scientist), Hfour: Ben Z Cooper & Stuart J Ward (multimedia artists), Jamie Magrill (undergraduate cancer researcher), Kalindi D. Morgan (chemist/evolutionary biologist), Kelly McInnes (dancer), Larissa Blokhuis (fine art sculptor), Maren Lisac (composer and musician), Niel McLaren (creative technologist), Sammy Chien (interdisciplinary media artist/choreographer/dancer), Sophia Wolfe (dancer and visual media artist).