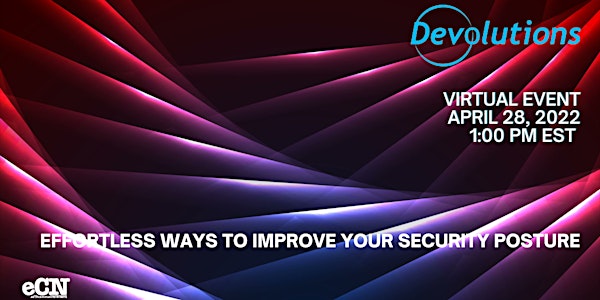 Effortless Ways to improve your Security Posture
With more than 4,000 of cyber security providers in the market, how do you pick the right one?
Date and time
Thu, Apr 28, 2022 10:00 AM - 11:00 AM PDT
About this event
How do you stay on top of the latest cyber security solutions for yourselves and your clients?
Most every MSP understands that improving the cyber security of their customers (and themselves) is mission critical.
The challenge is how you can do it in an effective and affordable way that is also manageable. In this session, we will explore how MSPs can quickly and easily improve the security posture of their clients and themselves.
Here are a few items we will be covering:
• What steps that you can immediately take to drastically elevate your security posture.
• How using a connection manager that allows for extensive automation while handling credential management, improves security as well as productivity, at the same time.
• How a centralized tool can offer visibility and logging of which person made use of a shared account.
• Bastion servers are well known for constraining contractors, prevent lateral movement and protecting core servers of your infrastructure.
• How an affordable "Privileged Access Management" solution can be deployed for larger accounts to allow for alerts and notifications, advanced workflows including approval mechanisms where permission must be granted prior to accessing a resource.