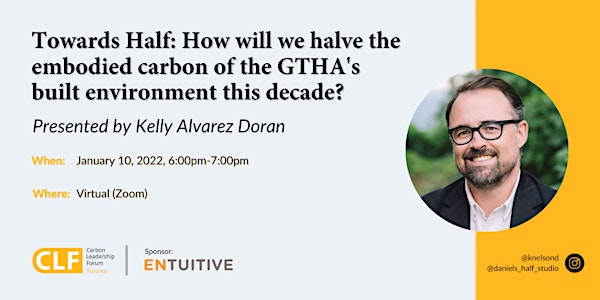 Embodied Carbon in the GTHA's Built Environment
Towards Half: How will we halve the embodied carbon of the GTHA's built environment this decade?
About this event
Kelly will be speaking about the results of his research studio at the University of Toronto that has been looking at the embodied carbon and material provenance of contemporary construction. In 2020 the research studio focused on MUR in the GTHA - results that have been shared broadly and are now being built upon to expand a Part 3 benchmark study with the City of Toronto. This year's studio is focused on mass timber projects across North America and Europe.
Important Information - UPDATED
This event will now be a virtual event only, on Zoom from 6:00pm to 7:00pm.
About Kelly
Kelly is an Associate Director with White Arkitekter, an Adjunct Professor at the The Daniels School of Architecture at The University of Toronto, and Lead Climate Strategist of the Bartlett's Landscape Architecture department. Kelly's practice and research has focused on the built environment's embodied ecological and social impacts and has been recognized as a global leader in the climate-positive design movement. Prior to joining White, Kelly was a Senior Principal at MASS Design Group where he led their Rwanda office overseeing the design and implementation of several MASS projects across East Africa - notably the Rwanda Institute for Conservation Agriculture that has been recognized internationally for its regenerative design principles.