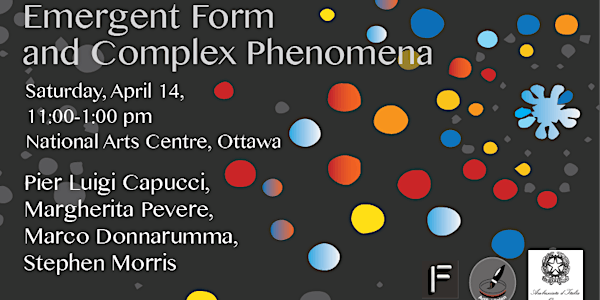 Emergent Form and complex phenomena
When and where
Location
National Arts Centre 1 Elgin Street Rossy Pavillion Ottawa, ON K1P 5W1 Canada
Description
The world is a complicated engine. How can we make sense of it? How do artists and scientists turn its complexity into a source of inspiration?
Emergent Form and Complex Phenomena is the last event of a four-parts interdisciplinary series which took place in Toronto at the Fields Institute for Research in Mathematical Sciences on Apr 10-11-12. Consisting of talks, performances, workshops and exhibitions, the series reflected on the idea of "Emergent Form" not only as a series of natural and human phenomena that often seem too complicated to understand, measure or predict, but also as a concept that helps us identify ways in which we can come to term with, and embrace their complexity as a source of inspiration.
in the spirit of this event, we are venturing outside of the comfort zone of our familiar environment (the city of Toronto, our homes, our community) and we become unexpected "emergent forms" ourselves: what kind of discussion will we be able to evoke? in how many ways can we spell this concept? from what disciplinary perspective? as our special panelists share their findings, we invite artists, mathematicians, philosophers, academic and non-academics in Ottawa to join in the conversation.
Ottawa. Sat. Apr. 14 National Arts Centre, 1 Elgin Street
11:00 am-1:00 pm
Emergent Form and complex phenomena
A creative panel discussion and surprise demonstrations
With
Pier Luigi Capucci, Accademia di Belle Arti Urbino. Founder and director, Noemalab
Stephen Morris, Professor of of Physics University of Toronto
Margherita Pevere, bioartist, performer and PhD candidate, Aalto University, Helsinki
Marco Donnarumma, Artist and scholar in biophysical sound, Berlin

Charles Sowers, Exhibition designer and artist, the Exploratorium, San Francisco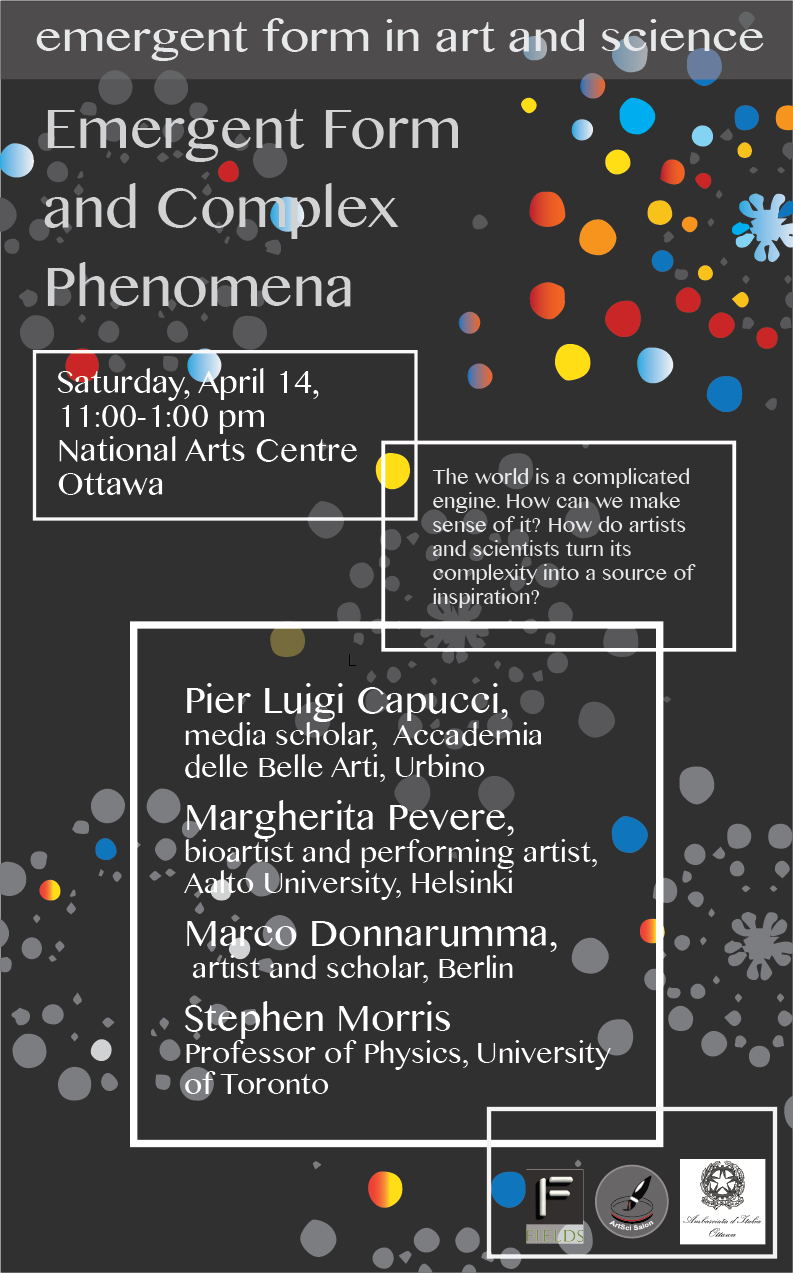 Bios
Pier Luigi Capucci
Pier Luigi Capucci (https://capucci.org) is a scholar, an educator and a cultural manager in the media studies, the arts, and the relations among sciences, technologies and culture. He has been a teacher in the universities of Rome "La Sapienza", Bologna, Florence, Urbino, Lugano, and at the fine arts academies of Carrara and NABA-Milan. Since 2008 he has been a Supervisor at the T-Node Ph.D. Research Program of the Planetary Collegium, University of Plymouth, of which since 2013 he is the Director of Studies. Currently he is a teacher at the Fine Arts Academy of Urbino and at the University of Udine (Dept. of Mathematics, Computer, Multimedia and Physics Sciences). He extensively and internationally published texts, essays and papers in books, magazines and proceedings, organized exhibitions and symposia, managed projects and participated to conferences worldwide. In 1994 he founded and directed the first Italian online journal, NetMagazine/MagNet, on the relations between arts and technologies. In 2000 he started Noema, a series of projects and an online magazine about culture-sciences-technologies interrelations and influences.
Marco Donnarumma
Since the early 2000s, Marco Donnarumma has developed a deeply transdisciplinary expertise, drawing equally from live art, music, biological science, computation and cultural studies. He holds a Ph.D. in performing arts, computing and body theory from Goldsmiths, University of London, and is currently a Research Fellow at the Berlin University of the Arts in partnership with the Neurorobotics Research Lab Berlin. His practice uses emerging technology to deliver artworks that are at once intimate and powerful, oniric and uncompromising, sensual and confrontational. Working with biotechnology, biophysical sensing, as well as artificial intelligence (AI) and neurorobotics, Donnarumma expresses the chimerical nature of the body with a new and unsettling intensity. He is renowned for his focus on sound, whose physicality and depth he exploits to create experiences of instability, awe, shock and entrainment. http://marcodonnarumma.com/
Stephen Morris
Stephen Morris is the J. Tuzo Wilson professor of Geophysics in the Department of Physics at the University of Toronto. His experimental research projects have included icicle morphology, the cracking of mud and rock, and the washboarding of gravel roads. Recently, he has assembled the largest collection if icicle images ever made. He is an award winning university teacher and a fellow of the American Physical Society. He sometimes presents his scientific photographs as art. He is the Scientific Director of the ArtSci Salon.
Margherita Pevere
With a visceral fascination for organic processes, Margherita Pevere is an artist and researcher investigating leakyness and transformation of biological and technological matter. Her practice employs a unique constellation of installations, performances, visual and video works, collections of plant and animal relics, workshops, and collaborations with bacterial cultures.
Based between Berlin and Helsinki, Pevere is PhD candidate (Artistic Research) at Aalto University, Helsinki, where she collaborates with the transdisciplinary platform CHEMARTS. She is founder member of the Berlin advocacy group AG21c and member of the Finnish Bioart Society. Most recent exhibitions include the Article Biennial – i/o lab, Stavanger (NO); State Festival for open science and society, Berlin, curated by Daniela Silvestrin; Non-human agents, Art Laboratory Berlin, curated by Christian de Lutz and Regine Rapp.
Charles Sowers
Charles Sowers is an artist and exhibition designer based in San Francisco. He was exhibition director at the Willamette Science and Technology Center (WISTEC), Eugene, OR, and has been working as exhibition developer at the Exploratorium since 1998. The creator of numerous public arts commissions, Sowers' work presents actual physical phenomena – often of striking visual beauty – that draw people into a careful noticing and interaction. His installations seek to provoke a sense of delight and wonder and reward extended observation. Sometimes this involves developing an apparatus to recreate and highlight some natural phenomenon observed in the world – the swirl of fog blowing over a hill, the formation of ice on a puddle, or flow of water and foam on the beach as a wave drains away. These things can fascinate yet often go un-noticed until pointed out.